The "Chip" We Carry
Hang on for a minute...we're trying to find some more stories you might like.
No team ever wants to lose. Especially not the first 8 games of the season. Sadly, this was the reality for my team, girls varsity lacrosse, until our 9th game on April 23 when we finally won against Long Reach 15-11, ending our losing streak
The game was a hard fought battle. We would score, and then they would score. We've played games where we've been close or even up, but then lose it later in the game. We wanted the win, and never gave up.
As the last 10 seconds on the scoreboard counted down and we knew we had finally won, the feeling was amazing. A weight was lifted off of our shoulders. Not having to go to school the next day and say we had lost yet again, and no longer having to be known as the only team that hasn't won this year was a relief.
There are reasons as to why I believe we didn't win the first half of our season. Our team is young: The 9 underclassmen that make up almost half of our team are all talented, but we lack the varsity experience. Our schedule had us competing against some of the top schools in our county, and even state. For example, for our game against Mount Hebron we lost 19-1, and against Century, the number 15th ranked team in Maryland, we lost 26-0.
Those 8 games of losing were games of hard fought battles that sadly ended in defeat and feelings of hopelessness. It got to a point where we said to ourselves "well, we're just going to lose again," and played a mediocre game possibly because of that mindset.
However, we weren't destined to go the whole season continuously losing. We were motivated to win more games. The win against Long Reach lit a fire inside of us and we were on a winning streak. We beat Glen Burnie (15-11), and then Oakland Mills (16-2) to celebrate our 5 seniors on senior night.
Consistently losing builds character, especially with a team sport. There were days where we would be frustrated and tired, but our bond remained strong. We learned how to be positive even when we lost 8 to 7 at the very last second of the game. Most importantly, we learned to never give up.
Our coach told us that because we go to Wilde Lake we carry a "chip on our shoulder," meaning that a lot of schools just expect us to lose based off of acquired stereotypes and past records. The grit that all players on Wilde Lake teams have is incredible. A player must find the strength to play proudly with "the chip" that we carry.

About the Writer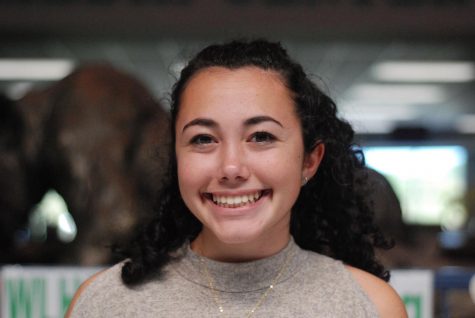 Hope Kahn, Editor-in-Chief
Hope Kahn is the editor-in-chief of the print newspaper. She is a senior at Wilde Lake High School and this is her third year on The Paw Print staff. She...