4 Varsity Seasons Together: The End of an Era for Senior Tri-captains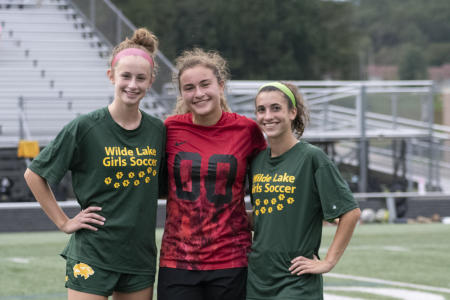 After the then-freshmen and first-year varsity starters Julianna Bonner, Lily Dunbar and Jenna Hutchison successfully made states but fell to Fallston by one goal in 2015, they hoped their senior season would be just as successful, if not more. Three seasons later, the senior tri-captains led their team through a hard fought battle, but could not defeat their season rival River Hill in the playoff game.
The cats went almost undefeated this season until October 9, when River Hill stopped the team's streak the first time. On November 1, the teams battled again in playoffs, but River Hill remained victorious, winning 2-1.
Julianna Bonner, Howard County's player of the year for 2017 and 2018, said the team had the ability to go all the way and win states, but it was just an unlucky game. "We were the better team during that game," said Bonner. "We had more shots on goal. It was an unlucky situation."
Although disappointed, Lily Dunbar doesn't let those two games define her senior season. "We went 12-2-1 and I was surrounded by an incredible group of soccer players who are my best friends."
The team's ability and talent was proven by the six players recognized with first-team All-County, the most from one school alone, as well as three honorable mentions on the team. Freshman Gia Johnson, sophomore Aicha Wilson, junior Angie Geralis, and seniors Lily Dunbar, Julianna Bonner and Jenna Hutchison were recognized for first–team All-County, and Ashlyn Bonner, Leah Williams and Nicki Wright were recognized with an honorable mention.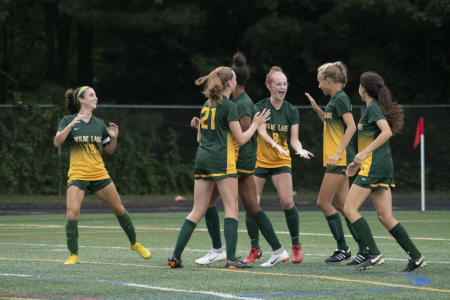 "Everyone played their part on the field," said Dunbar. "Nicki, Ashlyn, Angie and Aicha all held it down in the back and were able to mark some of the best forwards in the county. Leah and I distributed the ball to the outside mids so the forwards could do their jobs and score the goals, especially Julianna and Gia."
Dunbar thanks the seniors who she played with when she was a freshman on varsity. "I was lucky to have such a great group of seniors to look up to as soccer players and people, and now as a senior it's awesome to think that I got to act as that kind of role model for the younger girls."
The trio's sophomore and junior season's were rebuilding years, according to Bonner. "During those years I knew that when my sister, Ashlyn, was a freshman, it would be our year to thrive again," she said.
Gia Johnson, Ashlyn Bonner and Leah Williams did not make it to states their freshman year like the original "trio" did, but they have three seasons left. "Who knows what will happen, when we are the seniors," said Ashlyn.