Drama Department Heads Reflect on Their Experience With Wilde Lake Theatre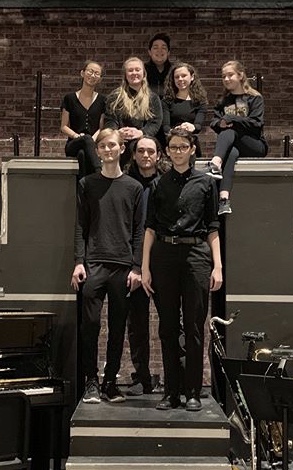 Brian Hudec: Sound Department Head
By: Marian Isailovic
If you recently saw "Chicago," and noticed the smooth transition from speech to song between characters, you may have also noticed Brian, head of sound, following each line to make the microphones react as perfectly as they can. Although stationed in the back of theatre, he also fixes mics and makes sure everything is aligned correctly for each character.
Since joining his freshman year he has participated in six productions starting with "You're a Good Man Charlie Brown" and he enjoys the fun music and dialect in each one.
He claims his favorite part is the people. "You get to make a lot of friends that stay by you," he said. "It's just like one big family."
Grace Fetters: Lights Department Head
By: Sarah Rubin
Grace Fetters, a junior, adores being the head of lights for the shows at Wilde Lake High School after two previous years of being on crew. She says, "I decided to do the show because I really enjoy working behind the scenes, and being in crew is like a family. We always support each other, and we all appreciate how hard we work."
And that support extends to outside of the theatre, too. "All the heads have gotten a lot closer, so we're friends and we hang out a lot outside of the show," Fetters says.
She feels like she's taken a lot away from being a head, and her advice to those upcoming is that "You're going to do a lot of hard work, but it always pays off in the end."
Kailey Ramsing and Rachel Henry: Props Department Heads
By: Hope Kahn
Mary Poppins isn't complete without her magical bag. Co-props heads Kailey Ramsing and Rachel Henry were responsible for the bag, and the overall magic enhanced by the props.
Ramsing started in the costumes department as a sophomore but then moved to props her junior year. "I wanted to try something new," she said.
Henry began her crew career as a junior in the production of "Mary Poppins". Although new to props, she stepped up her senior year when assistance was needed for the fall production.
The two are close friends and enjoy being surrounded by other crew members. "I love working to put something amazing together," said Henry.
Emerson Balthis: Paint Department Head
By: Rachel Henry
The background of the stage is what brings a production to life. No one knows that more than Paint Department head Emerson Balthis.
He was inspired to join tech crew after seeing past productions throughout his years at Wilde Lake and through the music department. "I started tech because some of my friends were already on tech," he said. "They would talk about it and it sounded like a lot of fun. Also having seen some shows before I joined I was always impressed by the work that crew put in to create such beautiful sets and scenes."
"My favorite part is the start and the end of a show," he said. "At the end it's nice to see everything brought together, and to see all the hard work finished."
Ze'ev Sayers: Carpentry Department Head
By; Rachel Henry
Take a trip backstage to the JRT to the carpentry shop. Need a saw, a hammer, or a drill? Ze'ev Sayers knows where to find it and it's purpose.
Sayers, the head of carpentry, is your go-to guy behind the scenes. He has worked on the carpentry tech crew all eight of the Wilde Lake shows he's been here for, starting with "The Brothers Grimm Spectaculathon" ending with the most recent musical, "Chicago".
"I stuck with it because I am friends with the other kids in tech," he said. "It was a great experience to work with [them].
"It gives you a chance to create something unique," he said. "We can bring something to the community that we can say we had a part in bringing to life."
Allison Deboy: Stage Manager
By: Darae Lyles
Allison DeBoy tried out theatre as a prop crew member in eighth grade, and developed a passion for it. DeBoy was influenced by her friends, since they were acting in the shows so she figured why not join behind the scenes?
She has done seven shows at Wilde Lake as a crew member, and "Chicago" especially meant a lot to her. "Spending time with the crew and helping run the show was amazing," she said. "Theater is a place for anyone who genuinely wants to be there."
DeBoy absolutely loves when new people come into the program. When new people join, she offers advice to "dive right in and enjoy it while it lasts." DeBoy says the program has been "one of the best experiences of [her] high school life."
Chin Tai: Hair and Makeup Head
By: Rebecca Nason
Chin Tai, a sophomore, was proud to be the youngest crew head in Wilde Lake's production of Chicago. Ever since middle school, Chin wanted to work tech for the school play but always forgot to apply. As the only non-senior on the crew last year, she was bound to become head. Chin said that "I put [wigs and makeup] as my number one choice, so I really played myself [to become head]."
Now on her fourth production, Chin finds it both stressful and rewarding to be the youngest crew head. Despite the large responsibility that her position holds she enjoys both the leadership and the makeup itself. However, she really loves that "everyone there is working together towards something."
Abi Morakinyo: Costumes Head
By: Susie Osborne
Abiola Morakinyo has been doing costumes for the WLHS theater department for two and a half years now a co-head since her second show, and the only head this year. For Abi, costumes has been a way to connect with people.
She spends time talking with parent volunteers and communicates with people from each department to figure out what works so the actors look their best on stage. "Doing costuming is a lot more than just picking out clothes," she explains. "It's much more complex; there are a lot more steps, and there are a lot more levels than people think."
Leave a Comment