Escalating Concerns About Gun Violence Bring Maryland Senator Ben Cardin to Wilde Lake
In a Q and A with Maryland Senator Ben Cardin on February 23, Wilde Lake students took every opportunity to question government policies, demand political action, and speak for student safety regarding gun violence at school.
Following the Parkland shooting where 17 students and staff were killed, the Stoneman Douglas students started the ENOUGH movement. This movement is being fueled by students all over the country. Wilde Lake students have already participated in one walkout, and there are plans in action for another on March 14.
At the beginning of the Q and A, Senator Cardin announced two things the government can do immediately: outlaw private ownership of military-style weapons and enforce universal background checks. Throughout the event students raised questions about government policies.
One student raised concerns regarding racial inequality during background checks. Senator Cardin reaffirmed the fact that under any background check there is due process. "We have discrimination in our systems of justice and that needs to be corrected," he said. "But we also need to keep people safe."
Students also expressed a strong opinion against the recent proposal to arm teachers. Sophomore Collin Geter questioned, "Why would the solution to gun violence be more guns?"
Senator Cardin responded by saying that he is not for arming teachers. "It is more likely that that would cause a problem, rather than solve a problem," he said, while also posing the question, "Are we safer with, or without guns?"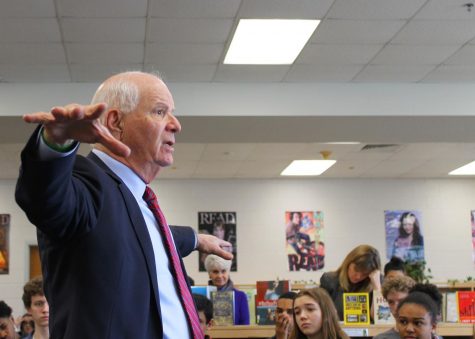 Instead of arming our teachers, Junior Elizabeth Eubank believes we need to learn how to react if a school shooting were to occur. "Why do I not know what to do? Why do I not know how to handle the situation?" she questioned. "We practice fire drills all the time, but if a school shooter came into our school I would have no clue what to do because we aren't taught that."
Senator Cardin agreed that this is an issue, but not something the government can necessarily fix.
Howard County Superintendent Dr. Michael Martirano announced at the Howard County Community Forum that the school system will soon be mandating active shooter drills in all schools, ensuring that teachers and students know what to do if an emergency occurs.
At the end of the event, Senator Cardin encouraged students to continue voicing their opinions. "Recognize that the power is with you," he said. "You can make a difference on this issue."