Replacing Mr. LeMon as School Principal, Mr. Wilson Makes School Culture A Priority
As soon as Mr. Wilson began his position as principal of our school, he made it his priority to put students first.
Since the first day on the job, one of his main focuses has been building relationships with the students, staff, and community members.
"The sign on my door says principal, but that means nothing to everyone who doesn't know me already," he said. "I haven't earned your respect, and that title doesn't mean anything as far as trust and building that relationship."
Mr. Wilson started his career here at the Lake 30 years ago where he was a science teacher for six years and an assistant principal for four years. He was then an AP at Glenelg High, as well as an AP at Mt. Hebron High School. He has also been principal of Glenwood Middle School, Folly Quarter, and Murray Hill Middle School.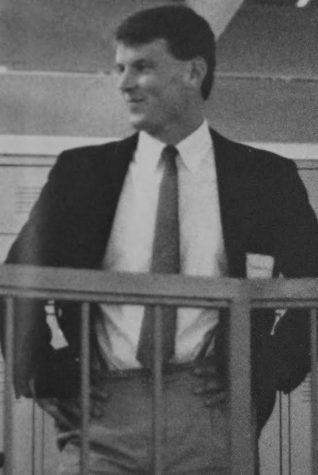 He has always been one to ensure that he formed relationships with the students in his past schools, so this is not new to him. However, the difference in school size can be a challenge, said Mr. Wilson. "I've always prided myself on getting to know the students of my middle schools, but it was a little bit easier with 700 students. It's a little more daunting with 1400, but I'm going to do my very best to be out and about and have folks know at least who I am," he said.
He's forming new relationships everyday. You can find Mr. Wilson in the hallway talking to students, checking in and saying hi to the teachers, or at lunch going around shaking hands and giving high-fives. 
"I know that I have huge shoes to fill," said Mr. Wilson. "Mr. LeMon has been the face of Wilde Lake for six years. I can't be Mr. LeMon because it would be impossible for me to do that, but I'm going to be the best Rick Wilson I can be for Wilde Lake."