Recent Dramatic Decline in Graduation Rate Raises Concerns for Wilde Lake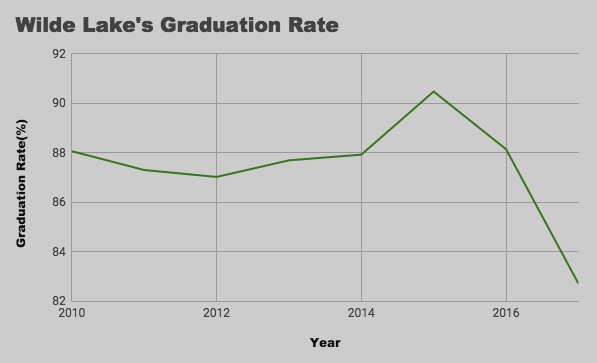 Out of the 1276 students at Wilde Lake, 230 students are not expected to graduate within four years according to last year's graduation rate. This brought concern to Mr. Wilson and the School Improvement Team.
Last year our graduation rate has dropped from 88.2 percent to 82.7 percent. Compared to the other schools in the county, Wilde Lake has the lowest rate.
"Students need a vision," said Mr. Wilson, "and when 18 percent of our students fall short because they didn't have a vision, we have to help those students."
Helping student groups who typically aren't as successful has become a part of the plan to improve graduation rates. "For example, students with IEPS, and students whose families are struggling financially, their numbers are concerning," said Mr. Wilson.
One way to ensure students get on track as soon as they start high school is through the resources offered to our 9th grade students.
Kaliyah Wright is a freshman at our school who was struggling academically at the beginning of the school year, but has since created her vision and strived to achieve.
"I want to go to UMBC in order to become an architect," said Kaliyah. "I was failing first quarter, but I got my grades up because I know 9th grade matters a lot."
"9th grade is the linchpin year of high school," said Ms. Volpe, the 9th grade Instructional Team Leader. "It's the first year that students have to understand how to deal with credits and have to pass classes. It's the first year that they're in this building, meaning they don't have anybody that they know in the building, they don't know the building, and they don't know how we operate, so that's a very stressful thing that the freshman undergo."
Ms. Volpe believes that 9th grade success is an indicator as to whether a student graduates or not. "Our past rates for a student passing 9th grade mimic the past rates of our graduation rates," she said.
Because of the cruciality of the 9th grade year, 9th grade teachers meet as a team, have an instructional team leader, and 9th grade point person in guidance and administration.
"Getting involved also helps students succeed," said Ms. Volpe. "Kids who are involved in things build connections and relationships with adults and those adults help support them, especially if they're lacking the resources elsewhere."
Kaliyah participated in JV cheerleading, varsity basketball, and track this year which required her to maintain a 2.5 GPA, motivating her to succeed. However, she doesn't believe all teachers support their students in the way they should.
"I know a lot of people who are failing their current grade, and it's both the student and teacher's fault," said Kaliyah. "A lot of students don't do their work, so I'm not surprised 18 percent of our students don't graduate. It seems like a lot of students at Wilde Lake just don't care."
Mr. Nicks, BSAP Liaison, is another resource that our students have to ensure they graduate from high school. Mr. Nicks focuses on all grades because as soon as students walk through the door he wants to prepare them for graduation, but ensure that seniors don't fall off track either.
"I want to build relationships with kids who need someone to motivate them to succeed," he said.
Our school has connected with two outside business partners: The NAACP and the Mall in Columbia. The NAACP will support with evening and weekend programs for students who need extra help, and the mall will provide additional incentives for students who do well, as well as host a job fair at our school. Both partnerships were made in hopes that they will assist in increasing our graduation rates.
Education is the future, said Mr. Wilson. "If a young person leaves high school without a diploma their future is not bright, so we as a school are going to do whatever we can to help our students succeed and graduate."