Social Justice Club Rallies Support for Removal of Police in Schools
At 1:30 PM, May 27, 2021, one hundred Wilde Lake Students participated in a walkout to remove school resource officers (SROs) from Howard County schools.
The walkout was organized and led by the Wilde Lake Students for Social Justice Club, a group of students that meet to discuss and spread awareness for social issues. Their most recent fight is for the removal of SROs, an issue that has been a national conversation for decades but has recently gained more attention. 
Howard County and the SRO program have had a complicated relationship. According to HCPSS, the county adopted the program in 1996, and it has been controversial ever since, says Spanish teacher Ms. Chavarria, a freshman at the time.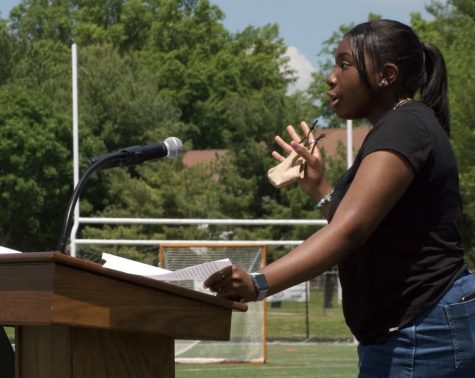 Their arrival came in response to the death of Dr. Hoyer, a Social Studies teacher, who attempted to break up a fight at Wilde Lake, according to HCPSS. The incident happened after a non-Wilde Lake student trespassed onto campus to fight a Wilde Lake student. 
Since then, at least one SRO has occupied the halls of Wilde Lake. For some, this is an unwelcome presence.
Those who feel that SROs should be removed argue that the presence of police sends the wrong message to students. Rather than correcting behavior through mediation, the SRO may prematurely step in and escalate the situation, says Ms. Chavarria. 
Assistant Principal Mr. Molin says that SROs are strictly a last resort at Wilde Lake, but the Social Justice Club believes that SROs are overstepping their bounds.
"Even in a situation where kids are fighting, teachers are better than SROs," says Special Education teacher Ms. Reely. "The criminal justice system's focus is punishment; a teacher's focus is resolution."
"We can find alternative forms of discipline that would lower the likelihood of a fight or conflict occurring again. With an SRO involved, you have the criminalization of students and no resolution of conflict," says Ms. Reely. "Students are still learning. We need to help them understand how to make better choices. Otherwise, you're perpetuating a negative cycle for that student."
The negative cycle has a name – the school-to-prison pipeline — which begins with disciplining a student in school. 
A study done by the National Longitudinal Survey of Youth Studies from 1997 to 2000 found that a suspended student was 417 times more likely than a non suspended student to have been arrested. "We just suspend; we suspend, and we throw students away. We can't just dispose of our young people," says Ms. Chavarria. 
Furthermore, studies show that Black and Brown people are facing the brunt of disciplinary actions. According to ProPublica, 65 percent of out-of-school suspensions were from Black and Brown students. And according to data from HCPSS, in the 2017-2018 school year, Black students made up 61.4 percent of a total of 88 arrests.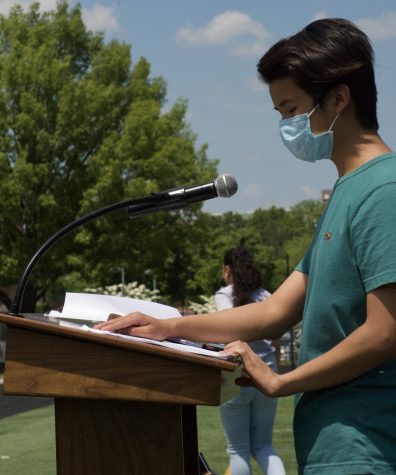 "As an African American, having an officer in the school makes me feel more unsafe than if we didn't. There have been so many bad incidents with people of color and cops in the past that I think I would feel better if we just didn't have them," a student said in a recent survey conducted by "The Paw Print." 
However, some still argue that police in schools are necessary for safety. In the survey, another student responded, "I think that police officers in schools are necessary for the right reasons like keeping us safe from school shooters or anything else that might be dangerous." 
To combat the school-to-prison pipeline, Mr. Molin says the school is focusing on restorative justice or resolving conflict through mediation, an emerging method to refocus the purpose of discipline. 
Some students agree with this approach. In the survey, one student said, "Rather than using funding on having police around schools, more money should be spent on resources that actually benefit students directly, such as mental health professionals." 
According to the Social Justice Club, these changes need to come from a county level. Because of this, they say they are not slowing down. "One action is not going to change the Board of Education's minds on SROs," the club said. "We need to do more to educate people and garner support."
Leave a Comment