Environmental Club Plants Native Garden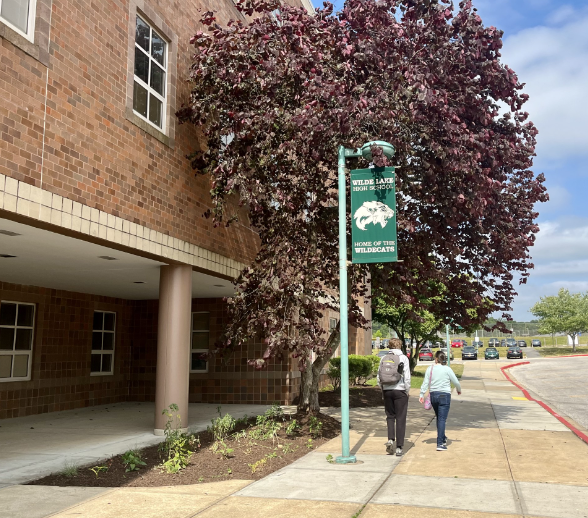 This year, Wilde Lake's Environmental Club planted a native plant garden in front of the school. The initiative was backed by the 15-20 person club, school administration, their sponsor Ms. Melissa Bell, and the groundskeeper.
Their plan to plant these native plants is coming at a time where invasive species are being planted in the community.
Seniors Andrew Heffner and Sophie Sapp went through a weeks-long back and forth with members of the Clary's Forest board about planting an invasive species called vinca vine in an attempt to solve water runoff problems in the village.
Vinca vine troubles the club members because it spreads rapidly and depletes resources from "native grasses and flowers" while they crowd out native species, according to Ms. Bell.
To support their efforts, the club planned a fundraiser on March 18th called "Plant-a-Palooza." The fundraiser was held outside of the Jim Rouse Theatre where they sold the plants that they had been growing since October, according to Andrew, a key member in the club's native planting initiatives.
Andrew hopes that the club's planting begins to raise awareness to the threats of invasive species and the benefits of native plants. "[The garden] is showing people that you can use native plants to create something beautiful," said Andrew. "By planting this native garden at a very public place at our school, we're hoping that it can start a conversation while also showing people that our native plants here are beautiful and do deserve to be in your yard. They're not just something that are kept to the side of the road to be shunned away."
"
[The garden] is showing people that you can use native plants to create something beautiful.
— Andrew Heffner
In late May, at the end of their senior year, their plan became a reality. Yet, members reflected on the ways in which their vision has changed since their freshmen year.
Lindsey Sands, a senior, restarted the Environmental Club in the fall of 2019 as a freshman. Since then, the club has acted as an opportunity for students to get hands-on experience in gardening.
Sophie says what originally attracted her and Andrew to joining the club was the prospect of being able to garden. "Lindsey was literally like, 'It's plants. It's the Environmental Club, but it's plants.' And then Andrew joined," said Sophie.
In their senior year, Sophie says their focus has changed from the actual gardening to the impact it can have. "Now we're using plants to help the earth," said Sophie.
The club says their broader purpose is not only to plant a garden, but to do their part in the climate action fight. Senior Oliver Song leads the Sunrise Movement with Lindsey and Emily Cosgrove from Mount Hebron High School, which is a local chapter of a nationwide climate change activism group. Oliver says that the ability to create change lies in people's mindset.
"There's this climate doom mindset that no matter what we do, there is just not enough momentum to help push us out of this climate crisis," said Oliver. "By having a positive attitude, like, 'This is what I can do, and this is what I will do to help the environment,' we can together as a globe, as a country, as a state, as a community help to advance towards that goal."
Leave a Comment