GSA Stages Walkout of Class in Protest of 'Don't Say Gay' Bill
On March 11, colorful flags swayed in the wind as GSA members led a fifth period walkout in protest of Florida's Bill to ban classroom instruction on sexual orientation and gender identity.  
Hundreds of students attended the walkout, which took place outside the Jim Rouse Theater. 
House Bill 1557, commonly referred to as the "Don't Say Gay" bill by its opposers, was passed in the Florida Legislature and is expected to be signed by Governor Ron DeSantis. While the bill suggests changing school counseling procedures to involve parents more, most public attention has been placed on the hard limits the bill puts on classroom instruction.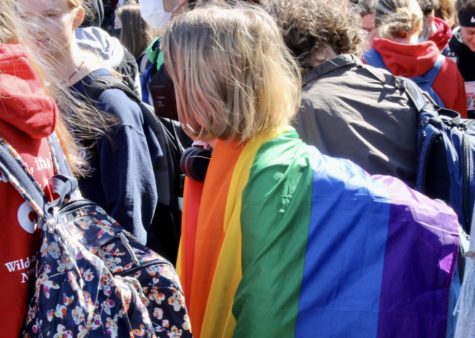 "A lot of the people around me are LGBTQ+ identifying, and I am as well," said junior Matthew Barnett. "Even if we don't live in the states that are being affected by the laws being put in place, it's still important to show solidarity for those being affected and show lawmakers that this isn't okay, and there is going to be backlash if you put these types of bills in place in the future."
For two days prior to the event, Instagram posts made by sophomore Al Norman advertising the walkout were widely shared around the Wilde Lake community
"When I saw the posts going around, it was nice to know that so many people cared," said freshman Erasmo Riggin. "I've been out as trans for a little over a year now, and it's horrible to see anti-LGBTQ+ bills passed, especially ones targeting trans people. I was glad to see our school, not just students, support the walkout."
"
[The walkout] gives me hope that this will be noticed in the world.
— Caleb McKenna
The walkout was organized in 36 hours by the GSA after a collective decision to organize, says sophomore Julianne Rohner-Preston, a club member. 
According to the co-sponsor of GSA, Science teacher Ms. Franckowiak, the students in the club were highly motivated to organize the walkout. "I told Ms. Leonard that [GSA] wanted to participate in the walkout, I got them a microphone, and that's really all I did," they said. 
"As a queer teacher myself, I am similarly stressed hearing about those situations," said Ms. Franckowiak. "I think many of our students really depend on their networks at school and the support of adults at school to affirm their gender identities." 
Matthew said that he believes Wilde Lake's walkout contributed to the larger cause. "We may be one small school doing it, but many other schools were doing it as well, so we were just one voice adding onto the many more," they said. 
To GSA member freshman Caleb McKenna, the people who chose to participate in the walkout represent hope. "I think the walkout shows me that when people want to support a cause, they will. It shows that the people have the power to support a cause," he said, "It is possible. [The walkout] gives me hope that this will be noticed in the world."
Leave a Comment