Demolished Housing To Be Rebuilt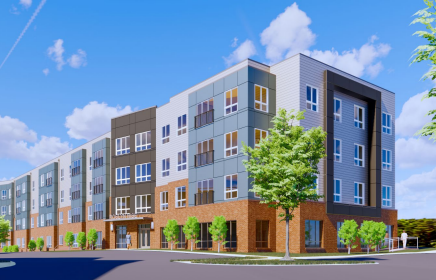 One day, students walking to school noticed a change nearby. First, a chain link fence. Then, construction equipment. Finally, it all added up when the Section 8 housing in Roslyn Rise was demolished. 
Roslyn Rise, an affordable housing development dating back to the 1970s when Columbia was initially being built up, is undergoing the first stages of a complete redesign. 
The vision for the new development has four pillars: green, modern, mixed-income, and amenity-rich.
Enterprise Community Development — the company that owns Roslyn Rose — describes the current buildings as "aging, small, and inefficient," in a January 2021 presentation at a Wilde Lake Village Board meeting. 
The new buildings will replace the "aging" buildings with modern infrastructure, says Ruchi Pokhreli, a financial analyst for Enterprise. 
"The new building is built to new national building standards, built with energy star appliances and high efficiency H-VAC," said Ms. Pokhreli. 
But regardless of the changes, the project will keep the low income housing goal of Roslyn Rise, adding 43 units at 80% Area Median Income and below. This keeps the core goal of Roslyn Rise — providing affordable housing — while adding more economic diversity to the area. 
Enterprise plans to finish Roslyn Rise then go on to refurbish other locations. This type of project where a location is completely demolished is a new concept. "Since I've joined the company, this will be the first project where the building will be demolished and rebuilt," said Ms. Pokhreli. "I think that this new building will be good for the community, especially to include a wider range of income levels."
The final pillar of the vision is the amenities. The company is aiming to add a gym, playground and dog park which will be free to any resident, according to Ms. Pokhreli.
In the meantime, as units are being rebuilt and added, existing residents were offered temporary housing and money to cover moving costs, and the guarantee that their property will be held for them should they want to move back after an estimated construction period of 20 months, according to the company's January 2021 report. 
View Comments(1)