SMOB Organizes Forum to Destigmatize Mental Health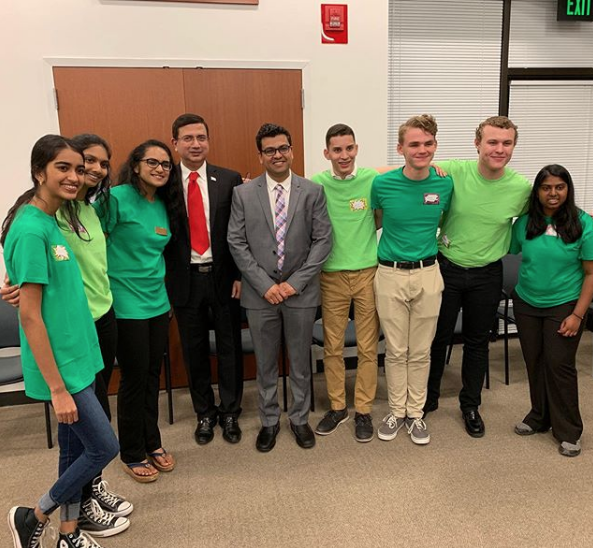 Hang on for a minute...we're trying to find some more stories you might like.
When she was in seventh grade, Trisha Reddy was told that in the United States, the biggest cause of death for teens was suicide. "This is what truly inspired me to help with the discussion," she said, "because people around me were suffering in silence, unknowing of the variety of ways that they can receive help in our community."
May 16, 2019 marked the date of the first ever Student Member of the Board community forum, led by current SMOB Ambika Siddabathula. Its purpose was to discuss mental health in Howard County public schools, and find ways to address related situations. As stated in the handout given to those who attended the meeting, the goal of meetings like this one is to "Pioneer a future where there is less stigma associated with mental health."

At the two hour function, there were five stations designed to educate people on the importance of mental health and general wellness. These stations included: Stress Relieving Strategies, Friend to Friend, Resources in Howard County to Support Mental Health and Wellness, Mental Health Initiatives Led and Run by Students across Howard County, and Destigmatizing Disorders. Chris Lidard, leader of the Mental Health Initiatives station, said, "The big takeaway I hoped to instill was that everyone, no matter who you are or where you stand, can be an advocate for mental health."
Trisha Reddy, now a sophomore at Mount Hebron High School, reflects on why she thinks discussing mental health is important. "People often have relatively little idea of the impact of having poor mental health. The consequences of poor mental health affect so much more than just mood and emotions – they affect a students' ability to interact with others, complete school work, engage in extracurriculars, etc.," she said. Reddy mentions that having the Board of Education members present allowed the students to share their ideas, and actually make an impact. There were also other panel members who showed up, such as school counselors/psychologists and licensed doctors who were able to answer questions that students and parents had for them, which she felt supported a stronger understanding of mental health illness and helped to solve stigmas around it.
"Mental health has always been a big topic in Howard County, and I've always felt like more needed to be done. When Akimba and her team reached out to me about helping to coordinate this forum, I was excited to help bring change and raise awareness for something that I felt strongly about," said Chris Lidard, a current sophomore at Centennial High School. He participated in the forum in an endeavor to remove the stigma surrounding mental health. "Advocacy doesn't instantly fix all mental illness, but it helps to remove the stigma and give those that need help the resources and validation from their community to get what they need," he said.
Reservoir High School junior Hunter Craig says he was influenced to help with this specific discussion because, "As a student who struggles with anxiety and has education plans set up, I strive to help those who do not have the same accommodations as myself. I was so glad that the SMOB reached out to me and seven other students in the county to plan this forum, as it's something I have a very strong passion for."
According to a study by the Center for Discovery, "About 20 percent of all teens experience depression before they reach adulthood," and are at risk of committing suicide.
According to Ambika, something needs to change. Chris Lidard believes in having an open conversation about taboo topics. "Advocacy doesn't instantly fix all mental illness, but it helps to remove stigma and give those that need help the resources and validation from their community to get what they need," he said.