Do You Hear Howard County Sing When Tomorrow Comes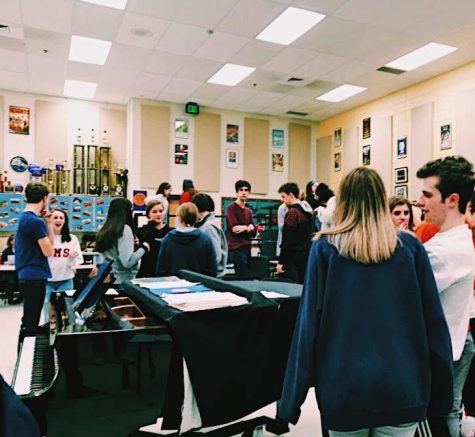 The lights go down, the audience quiets, and the stage is still. The students begin to enter, ready to perform. They have one chance, and after months of practice and preparation, the moment has finally arrived. Suddenly, the tympanies roar, the light shines down, and the show begins.
On Sunday, April 26, for the very first time, over a hundred students from high schools across the county will come together for a performance of Les Miserables at Merriweather Post Pavilion, led by teachers Terry Eberhardt, Carole Lehan, and Gregory Knauf.
Created to bring students across the county side-by-side, Les Miserables has thespians from every high school, all eager to learn and thrilled to perform alongside some of their closest friends they don't get to see as often otherwise.
Atholton High School senior Cameron Goodwin-Schoen plays Thenardier in the show, and is excited to see everything come together as the scenes and songs finalize. He says, "I really like having the opportunity to do a show with people I see perform elsewhere that I wouldn't normally be able to share the stage with."
This performance of Les Miserables is directed by Ms. Lehan, who is excited to be, "…working together [with the students] on such a demanding score of a classic story about justice and and forgiveness." She says, "There's great energy in the room when we work. I sense there is excitement about the project and about the unknown of performing at Merriweather, but these students know the drill."
Wilde Lake students Sydney Cox and Collin Geter, along with River Hill senior Mia Erlich, and Mt. Hebron senior Nick Brogan, wishes an opportunity like this would have arisen earlier. "I honestly love it so much," Cox says. "It feels like everyone there is so dedicated, and I'm working with a lot of people I've looked up to in the county for the longest time." 
            Brogan, who plays Jean Valjean, adds, "I for sure would've loved to do something this large scale every year if possible! I think it's a phenomenal idea and a great way to bring theatre to the community, and it's crazy that this is the first year everything has come to fruition."
Senior Angelo Harrington II agrees, saying, "It's like a big bonding experience, and I love the atmosphere so much! Everyone works so hard, and is so incredibly dedicated." Harrington is currently a student at Reservoir High School, and plays Marius in the production.
Music directing for the show, Mr. Knauf is excited to, "…bring together students who want to be challenged and are ready to work at a high level." 
Since this was an audition to get in process, all of the students want to be there, and are dedicated to the show. 
He says, "The students involved so far seem to be really enjoying the experience. More than the scope of the production is the fact that it brings students together from all over the county who may not usually get to interact with each other on something that isn't competitive. In a time of a lot of division in our country, and even in our county, it's a great message to show that we can come together to work towards a common goal and create something powerfully inspiring."
"The people and the process are definitely the best part," says Marriotts Ridge junior Dylan Buchwald. Will Cavey, a freshman at Centennial, agrees, and is excited to be surrounded by, "… such incredible people and performers."
Justin Diaz, a junior at Long Reach, feels honored to be participating in this never before done theatrical production. "It's truly such a great experience," he says. "Getting to be a part of something like this is really amazing."
"We have an ensemble of individuals who agree not only to take the journey of this story together, but to help each other take that journey," says director Lehan. "They have different school cultures and various experiences in production, but they balance schedules, come to rehearsals, and do the work, and it is so heartening to be in a rehearsal with people who are choosing to spend the time and work together."
The show will be at 3pm on Merriweather's mainstage on April 26, and tickets are free. All are welcome to come out and support HoCo's Les Miserables in concert.
Leave a Comment