Spirit Days: Memories That Last a Lifetime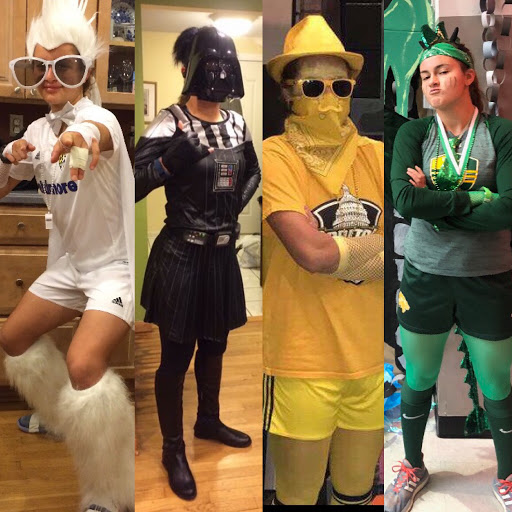 Freshman year, Jenna Hutchison was covered head to toe in all white, sporting a mohawk wig, furry leg warmers, and a cape trailing behind her. Sophomore year, she came to school dressed as Darth Vader in all black, with the imperial theme song playing out a speaker in her backpack as she strut down the hallway. During her junior year, Jenna dressed up in bright yellow tights, a bandana, and yellow sunglasses with a yellow mustache hanging from them. Making her final debut on class color day as a senior, she wore bright green clothes with dragon wings and a tail attached. Spirit days are Jenna's favorite days of the school year, and she's not alone.
Newcomers to Wilde Lake tend to be surprised when the first spirit week comes along the week before homecoming and they see just how many people participate. For many of the students, these days create a greater sense of community within the school, with not only their fellow classmates, but with their teachers as well.
Nate Mancuso, a freshman at Wilde Lake, said "It's nice as a freshman to feel included, and walking into school on the first spirit day seeing everyone all dressed up was incredible."
On the last day of spirit week, an assembly is held, where many different school club and sports get to perform and just hype up the student body. Sophomore Bridget Tiffey said that being on the girls soccer and lacrosse team lets her enjoy spirit days even more, especially when she gets to participate in the pep rallies. "It's one of my favorite parts of school," she said. "I wake up extra early for spirit week. I'm always so eager to see how everyone dresses up, which gets me excited to go to school as well."
Spirit days also give people a chance to break out of the norm, wear something extravagant, and just be a completely different person. A junior, Cole Simmons said, "It gives people a chance to be crazy with other people, whether they're your friend or not."
In fact, many people come to school that week even if they're not feeling well, or just didn't want to come. Following the same routine from day to day can get boring, but spirit days change up this monotony, and they're days not to be missed.
The spirit shown by the students strengthens the school's community, and brings everyone closer together. The pictures taken on those five short days gives some people a lifetime's worth of memories that can last forever.
These days allow people to express their creativity and individualism that normal school days tend to hinder, and getting the chance to portray themselves any way they want can make school a place students look forward to going to, instead of dread. School shouldn't be just about getting good grades and completing worksheets – it should be about making new friendships and learning new things that actually interest you. A school should bring the whole surrounding community together. From scary dragons, to Darth Vader, to crazy cowboys, spirit days are a way to enjoy school, and make memories that never fade away.