Mr. Nicks Motivates Students Through Class Visits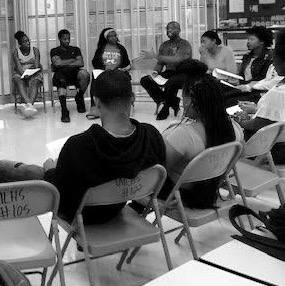 Walking into a room, BSAP Liaison Mr. Nicks commands attention. His inviting personality and spirited energy draws the crowd in, and all eyes are on him as he greets the students.
In the 9th grade classes he visited during the month of April, he shared his own story hoping to connect, inspire, and motivate the students.
"How do we present ourselves to the world?" he asked to the students. Mr. Nicks started his presentations by letting the students get to know him, which automatically adds an air of community to the room. Then, he began his story.
Growing up, Mr. Nicks spent his whole life aiming to become a professional basketball player. As a young, African American male, he believed his only options were to go into either basketball or rap, as that was what was drilled into his narrative. People told him he wasn't going anywhere, but to that he says, "Those who hate on you will be the same ones who want to get with you when you're successful." He used those people as his motivation, and stood steadfast with what he wanted to do – become a professional basketball player.
However, when Mr. Nicks learned of the strong, black leaders in the world, his view immediately shifted. He soon discovered he could be anything he put his mind to, including teaching and speaking in schools to help students recognize their own power.
"When I was in school, I never learned about black people doing things, or saw influencers or superheroes who looked like me," he said. However, he runs by the idea that everything depends on your perspective. "Question the narrative, don't just accept it," he shares. "Your skin color doesn't define who you are."
He traveled from class to class with Wilde Lake seniors who were eager to share their stories. Senior Darae Lyles shared what she has taken away from the past four years. Her advice to those just beginning their journey is to "Surround yourself with positive influences," she said. "I changed up my friend group, and I'm not saying they were the main reason my grades went up, but they were definitely a reason."
Sharing Malcolm X's inspirational story, Mr. Nicks told the students to "Be the best you in your own skin." As he paused to let his words sink in, he told them once again that everything depends on your perspective. Everybody has a story to tell, you just have to take the time to listen.
Leave a Comment