Wilde Lake Speech and Debate Team Secures Historic Season
The Wilde Lake Speech and Debate team sent eleven students to Nationals in May this year after a record breaking season under coach Kelli Midgley and captains Lena Osborne and Aly Abel.
At Nationals, sophomore Antonio Clay-Hardy placed eighth in the nation for Declamation, the farthest a Wilde Lake Speech and Debate student has ever made it at Nationals. Outside of Nationals, the team was also named Best Speech Team and Best Overall Team in the region, with members receiving honors such as Degrees  of Honor, Excellence, Distinction, and Super- Distinction. This year, for the first time in Wilde Lake history, the National Speech and Debate Association bestowed the designation of Academic All American on Lena Osborne.
Ms. Midgley has coached the Speech team since 1998. Debate captain Lena Osborne has been on the team since she
was a freshman. Though the club was nearly empty in 2020, it has now been revived to 19 members. According to Ms. Midgley, the Wilde Lake Speech and Debate team is one of "the most decorated teams in Howard County and Wilde Lake history."
She attributes this success largely to the people that make up the team. "Really, I think the student leadership has made a huge difference. These kids have given up their time to coach their peers and make sure they achieve what they want," said Ms. Midgley.
As captain and four-year member of the team, Lena has served as a leader for the other students. She says that the Speech and Debate team is successful because it has "a great group of people, hard work, and dedication." As a mentor within the team, Lena has helped to grow the team to its level of success today through her recruiting approach. "Most of the recruiting process is having people who are interested showing up and trying our best to make them feel welcomed and included," said Lena.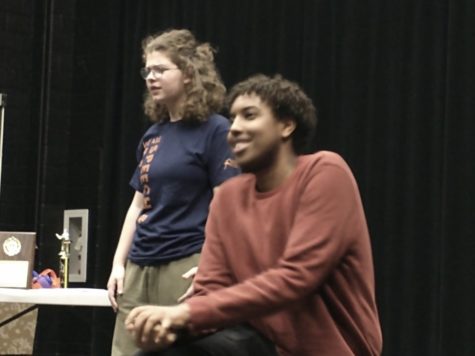 Team members are able to carry on their legacies past their years as students in the club, says Ms. Midgely. "What's cool is that every leader of the team teaches the next ones," said Midgley. "Liz Cho is a sophomore that Lena has mentored who is going to Nationals for the second time. It's amazing."
The team is incredibly close. They help each other with practice and support each other's accomplishments. "I try and be very supportive for new people," said Lena. "I want the whole team to be each other's biggest cheerleader."
Senior Oliver Song feels that the diligent work of his peers is what allowed the club to thrive. "It's our passion for the topic. I think that we all really believe in the value of speech," said Oliver.
According to sophomore Liz Cho, Speech and Debate is giving students tools to help them later in life. "Not only does Speech and Debate teach students valuable skills like communication and public speaking, but students learn to think about everything in a critical way and try to listen to both sides of a statement or argument before coming up with an opinion," said Liz.
Other members, like senior Benita Besa, have seen benefits off the competition stage. Benita says that she joined the team to develop her public speaking and critical thinking skills. "I think even speaking-wise, I am more comfortable," said Benita. "I'm better at analyzing situations and finding arguments." At Nationals, the team continued their streak of success. Ms. Midgley says that them team's recent season has been a "big moment."
"We've had really successful teams in the past, but to hit that top honor is a really big deal," she said.
Antonio says he is "honored" to be eighth in the nation for Declamation. "If the Wilde Lake Speech and Debate team is successful, I think that the school is successful," Antonio said.
Leave a Comment