Wilde Lake and Hammond Pilot LGBTQ+ Studies Class for HCPSS
Ms. Franckowiak will be the first teacher at Wilde Lake to teach an LGBTQ+ Studies class.
Though it is currently only at two schools, Wilde Lake and Hammond, according to HCPSS, there are plans to expand it to all other high schools in HCPSS next year.
This class comes during a time of turmoil for LGBTQ+ education. In Florida, for example, the introduction of the "Don't Say Gay" bill limits how teachers can discuss "sexual orientation or gender identity" throughout their time in school, outright prohibiting it through grade 3.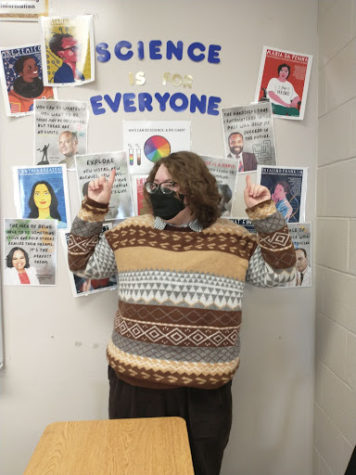 Science teacher Ms. Franckowiak gave up an additional planning period to teach the class. "I am deeply interested in the subject matter," they said. "I felt like among the staff here at Wilde Lake, I was fairly confident that I had the most appropriate knowledge base to teach the class well and effectively."
Social Studies teacher Ms. Paparazzo volunteered to teach the class at Hammond. "I've done work previously about helping equip teachers to better teach LGBTQ students," says Ms. Paparazzo. "I'm an ally to that community and wanted to bring that course to Hammond."
This is the first year that the school system is offering this course, though according to Ms. Franckowiak, it has been in the works since the 2018 – 2019 school year. Much of the curriculum was piloted by the teachers with the guidance of the Social Studies Advisory Board for HCPSS. 
According to Ms. Paparazzo, "[the course] examines history and contemporary issues from the perspective of LGBTQ+ people."
Ms. Paparazzo enjoyed pioneering a new curriculum, despite the hardships. She says that it was "stressful just because there was no one to ask."
Both teachers say that the response to the seminar-style class has been overwhelmingly positive. Ms. Franckowiak says they feel the students are more invested when they are able to discuss topics relevant to them.
"I [don't] need to do a bunch of fancy teacher tricks to get students to follow along with me or be engaged or ask questions. They just sort of come in and are ready to talk," said Ms. Franckowiak.
Wilde Lake Sophomore King Francisco is a part of the class. "I'm in the community. I'm gay, and I'm trans, and I wanted to see what opinions other gay and trans people had," said King. "I feel good. I feel good to be a part of the change, you know?"
"I feel privileged," says Wilde Lake senior Andrew Heffner, who is also in the class. "Not everyone has space in their schedule to take an elective like this. I'm really happy [in the class.]," says Andrew.
Ms. Paparazzo hopes that students will continue to sign up next year. "Unfortunately, the reality of high school courses is that if we don't have enough students sign up for a course, it's just not taught at that school, so it's really going to depend on if students sign up to take the course since it's an elective," says Ms. Paparazzo
Ms. Franckowiak says that the Florida bill is "honestly a bit of a nightmare. It is outrageous to me that there are school communities that are actively making it less safe to exist as their whole selves in school spaces." 
According to King, the class" feels more like a safe space. I feel more willing to share my opinions… It's comfortable."
Leave a Comment