During Pandemic Learning, Siblings Stick Together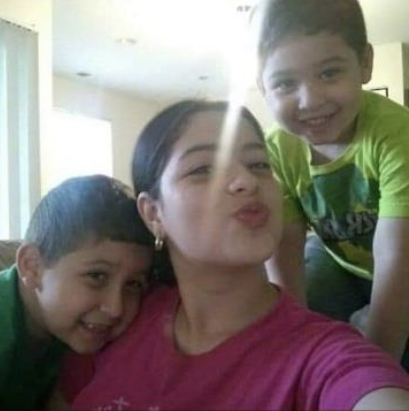 Despite the difficulties of taking care of her younger brothers, Wilde Lake sophomore Jessy Rubio-Vigil has found the silver lining from working with them throughout the COVID-19 pandemic.
Like countless families, Jessy's has had to overcome many difficulties when switching to online learning. One difficulty is figuring out how to help Guilio and Emmanuel, who attend Longfellow Elementary School. Their whole family has made changes to their everyday lives to help them succeed in school.
Emmanuel is in 2nd grade. Over the years, he has become increasingly independent with his school work. "School can be fun, and I like it," says Emmanuel. He logs into his class with a smile and enthusiasm ready to learn, even though at first he struggled to comprehend how everything worked. "I can do almost everything by myself," Emmanuel says. "But when I do need help, I ask Jessy."
However, while Emmanuel is needing less help from Jessy, Giulio is just starting kindergarten.
When Giulio was in pre-K, he struggled following directions and paying attention in class. "Giulio can be shy and struggles to express himself," says Jessy.
"There were many afternoons where when I went to pick up Giulio from school and his teacher would tell me he didn't listen to her and that she would like to talk with his parents," says Jessy. However, as time went on he slowly started to adapt to going to school.
When attending in-person school, Guilio began communicating more and starting conversations at home. In March, when everyone was quarantined, Giulio became less communicative and would spend the majority of his time on his tablet.
When school switched to online learning, it was very tempting for Giulio to just walk away from class. He has trouble concentrating on things he doesn't understand because they frustrate him and he just wants to give up.
"Sometimes I don't understand what the teacher is saying and I get lost," says Giulio. The instructions given by teachers can be unclear and confusing for him. Jessy has to explain the teacher's directions to him very clearly.
Jessy is always finding new, creative ways to get Giulio to pay attention. Sometimes she gives him a reward as simple as a high five, other times she rewards him and Emmanuel with a walk outside.
"I have to encourage him to want to continue listening and participating in the classwork," Jessy says. However, at the same time, she needs to pay attention to her own class.
Prioritizing her brother's schoolwork above her own has taken a toll on Jessy's well-being. She has to adopt new methods to ensure she can manage school and home life. "There are many nights where I lose sleep trying to catch up on my classwork," says Jessy. However, the family has no choice but to rely on her.
Jessy's parents have long workdays. They work to ensure that their kids can have a happy and balanced life, but after a long shift, they often return home exhausted. Jessy's mother wakes up before Emmanuel and Giulio do to prepare meals for the whole day so that Jessy doesn't have to worry about finding food.
When their parents aren't working, they are trying to rest or attempting to take Giulio and Emmanuel off Jessy's hands to give her a chance to catch up on her schoolwork.
With a vaccine on the horizon, the Rubio-Vigil family is looking forward to getting back to normal life. Despite the challenges Jessy has faced looking after her brothers full time, she appreciates the opportunity she has had to get to know her brothers better, saying, "I now have a better understanding of my brothers and their interests."
View Comments (2)