Seniors Regret Freshman Failures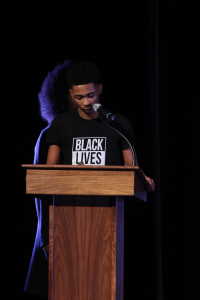 As graduation approaches, seniors are looking back on their time in high school. Each year has its ups and downs, but freshman year tends to be the biggest struggle. It was a hard transition from middle school, and many students had a hard time developing a good work ethic. Because of this, their grades suffered and their options for college seemed limited. Why is freshman year difficult for so many students? How do seniors look back on that transitional year? What advice do they have for incoming freshman? These are the questions The Paw Print is looking to answer.
Senior Corey Cooke reflects on his struggle freshman year and sees the impact of those who surround you. "I had a bad circle of people [going into high school who were bad influences on me. I felt as if I was going into a school where I only knew a handful of people from my middle school. I was a little fish in a big pond, and I wasn't accomplishing my goals academically or in other areas like sports," he says.
For senior Jim Nwalal, his wake-up call was at the end of sophomore year. "I noticed that if I really wanted to go into the medical field, I had to step my game up, so I stopped hanging out with people I considered a distraction and started focusing on my schoolwork," he says. These realizations don't come easily, and it can be a challenge to completely change how you've spent your entire school life.
Other seniors may not have struggled academically, but had some difficulties socially. Lucy Flippen recalls, "At first I didn't make an effort to meet new people because I thought that my friends would never change." Her middle school friends had grown so close that she didn't see a reason to open up and find new friendships. Though it was good to keep her friends from middle school, she feels she would've made way more friends had she been more outgoing.
Teachers and extracurriculars can help ensure that students keep focused and motivated. Cooke says, "With basketball, my teammates that were excelling helped me become a better person in and out of the classroom. Also, my teachers inspired me to become a teacher myself. They saw me as more than a letter grade, and actually rooted for my success."
As their high school years went by, many seniors began to improve in their schoolwork, and their grades reflected such.  "I've grown so much mentally. I went from having a 2.7 GPA my first semester as a freshman, to having a 4.3 my first semester as a senior," said Nwalal. Through focus and hard work, he was able to apply and get accepted into the colleges at the top of his list.
Four years later, now wiser and more focused, these seniors would like to leave advice for freshmen who are in the position they were in four long years ago. Nwalal says, "At the end of the year, take time to reflect. If you truly want to be successful, you have to make sacrifices, which may include  cutting off some people or forgoing a sports season. The only person who controls your future is yourself."
Leave a Comment