Facilitating Friendships and Inclusion Through Best Buddies
At the Wilde Lake Best Buddies chapter meetings, students can be seen smiling and laughing, engaged in conversation, as they decorate cookies, eat pizza, or play group games.
Best Buddies is an international organization that promotes inclusion of students with intellectual or physical disabilities into society, by facilitating friendships between buddy members and peers.
This club was created as a way for schools, colleges, and other organizations to have a set place and time where interested students can come together to learn and inspire in a safe setting.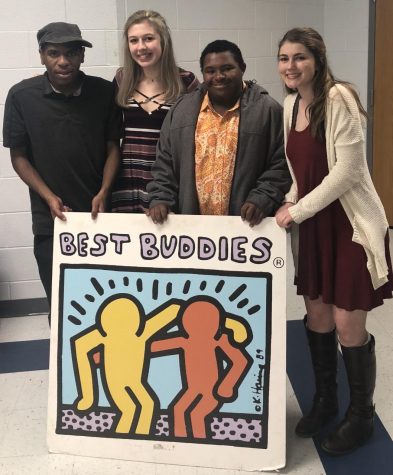 Trevon Gordon, a senior, has been a member of Best Buddies since his freshman year of high school. Gordon is planning to join the Best Buddies chapter at HCC when he attends school there in two years.
Maddie Ives, the president of Best Buddies at WLHS, has known Gordon since her freshman year. The movement behind Best Buddies is incredibly important to her, and she wants to help spread the ideas the club promotes. She has formed many incredible friendships through the program, and wants to help spread and advocate for the ideas the organization promotes.
Maddie discussed how there is sometimes a stigma that surrounds students in the special education programs in school that prevents other people from trying to get to know them, without realizing they have much more in common than one would assume.
"I want people to be able to see and appreciate the differences, but also realize we have a lot more in common than we think," said Ives.
Gordon participates in bowling, soccer, and softball during the school year, with bowling being his favorite. "It's a really really fun sport, and I get to spend time with my friends," he said.
Outside of school, he spends his time playing video games, especially Mario Kart, or listening to some of his favorite artists' music including Drake, Cardi B, Nicki Minaj, and Bruno Mars.
He also enjoys performing, and he was the opening act in the Wilde Lake winter talent show singing a song by one of his favorite bands, New Edition. If you follow him on his Instagram, you may be lucky to catch one of his livestreams, where he likes to sing and dance.
Mrs. Dixon, the GT Research teacher, has formed a friendship with Gordon this past year. "He comes into my classroom every morning to say hello and ask how I am doing," she said. "It has become one of the highlights teaching at school.."
Gordon is grateful to have been apart of the Best Buddies program at school. "I get a chance to hang out with my friends, and go to the mall and the movies," he said. "Best Buddies has given me a lot of good experiences and so much fun."