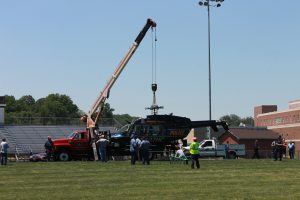 Maria Pascal, a recent graduate of Wilde Lake, was out on her usual afternoon run with her dog, when she was surprised to be reprimanded for entering the football field to see the Howard County police helicopter emergency which landed on the football field of Wilde Lake High School, Thursday May 30.
According to the police department press release, the helicopter was responding to a call around 11p.m, when it began experiencing difficulties mid-flight. The pilot, an experienced officer and certified flight instructor, used night-vision goggles to navigate the aircraft to an empty field and land safely.
That field just happened to be the Wilde Lake Football Field.
None of the officers were injured in the incident, but the helicopter sustained damage, as the tail rotter broke off upon impact with the field.
The cause of the mechanical failure has yet to be determined. Though students and teachers at The Lake reacted with amusement, rather than concern for the helicopter. Why? Because it's not every day that something like this happens.
"It's pretty crazy," said Coach Brewington, a Wilde Lake Track & Field Coach. "How many times do you have a helicopter land on your field!"
Similarly, students who arrived the next morning in the parking lot took notice of the strange new edition to their usual green field.
"I didn't even notice it right away," said Candice Ho, a junior who regularly drives to school. "It was so unexpected, but cool."
However, police officers on the scene were adamant to maintain a serious demeanor towards the accident. When trying to get o the field, officers reprimanded students and adults with whistles and loud calls of halt.
The enforcement caught people off guard.
But in the end, "Wilde Lake is just happy no serious crash happened," said English Teacher Mr. Satterfield. "We always like to be able to help people in our community."