From Contraception to Inhalers, School-Based Wellness Center Aims to Meet Students' Needs
In 2017, a School-Based Wellness Center was introduced to Wilde Lake to support students' health and well-being. Wilde Lake is the only Howard County high school in the Wellness Center Program. The program has recently received an $815,000 grant from the Maryland Department of Health, allowing the elementary school centers to hire two nurse practitioners and a medical assistant.
Wellness Centers offer medical care for students inside the school, provided by an onsite nurse practitioner or physician. Ms. Hobson, the program administrator and provider at Wilde Lake's Wellness Center speaks on the benefits of the grant. 
"It is already making a huge difference in the elementary schools with the program," she said. "They have performed a large number of physicals, worked with kids to manage their asthma, identified health problems, and treated infections."
Wilde Lake's Wellness Center offers a variety of services, one being its reproductive healthcare options. Students can receive family planning, including birth control pills and Depo-Provera (a birth control injection), condoms, pregnancy tests, and screening and treatment of sexually-transmitted infections under the Maryland Minor Consent Statutes. Students can receive all of these services without parental consent or the Wellness Center Program providers contacting their parents. 
The center is also crucial in supporting the teen parenting program, caring for the students and their children, says Ms. Leonard, the principal at Wilde Lake. Ms. Anderson, the Wilde Lake school social worker in charge of the teen parenting program, says the Wellness Center has been a "blessing" to the program. 
"Our babies are able to go there just like the students," said Ms. Anderson. "It allows [the students] to be able to go down there and have someone look at the babies so they can stay in school."
GT Biology teacher Ms. Archibald says the center benefits students academically. "[Keeping students in class] allows them to build their class community and to be a part of their class community which is going to help their mental health overall," said Ms. Archibald. "It helps the teacher because then we have a better relationship with the students."
The Wellness Center also benefits students struggling financially or with no medical insurance. Ms. Leonard says a family struggling financially may also struggle with accessing health care.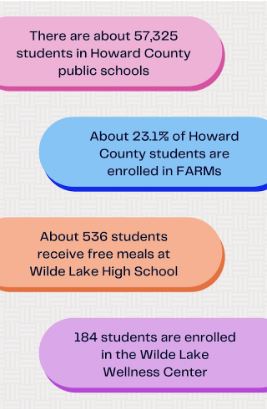 "I think the big thing is that for those that don't have medical insurance, [the Wellness Center] is a resource for them to be able to get care and have access to care, so it takes away that barrier," said Ms. Anderson. 
The Wellness Center, which is part of the Howard County Health Department, only bills Medical Assistance, a Maryland insurance provider for low-income individuals. Families never have to pay the School-Based Wellness Center for the care provided. The centers do not charge a copay or any portion of the bill not paid by Medical Assistance or any private health insurance the student may have, according to Ms. Hobson.
Students believe in the importance of equitable healthcare as well, such as junior Setutsi Abdallah, founder of the Future Medical Professionals club at Wilde Lake. "Everyone should be able to have access to a medical professional if they need it," said Setutsi. "For various socioeconomic reasons, some people's parents may not be able to take them to the doctor, so having the Wellness Center at our school closes these gaps." 
The most important aspect of the Wellness Center is its accessibility, according to Ms. Hobson and Ms. Leonard. "We have a healthcare system in our country that is inequitable in access, and our Wellness Center is an important part of creating a more equitable healthcare system for our community," said Ms. Leonard.
Students like senior Sajana Vigna-McLaughlin appreciate having easy access to the Wellness Center. "We need support right now, and we should always have a place where we can be helped," said Sajana. "I value having the resource of the Wellness Center because it's helping us better the community."
As Setutsi says, the Wellness Center is important because it offers needed support to students in school. "Supporting students mentally and physically at school is important so that we're raising students that can achieve the most in life," Setutsi said. "They can be academically equipped for the real world, and overall, it leads to a healthier populace, a better-functioning society, and better students."
Leave a Comment