Gabe Smith is a "wide-eyed wonder"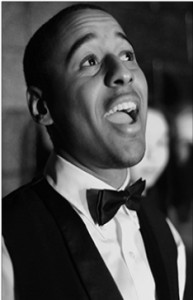 With the set painted, pit band ready, and seats filled, Senior Gabe Smith was ready to take the stage for Wilde Lake's production of Godspell. Smith has been singing, dancing, and acting in fine arts performances since his freshman year.
Smith's experience in the arts department is why he was chosen this year to be Choir President, the top student position in the department. Smith also sings with Wilde Lake's Barbershop group.
According to Ms. Adler, teacher and director of the drama department, Smith is "a wide-eyed wonder who brings a great sense of humor" to all of the school's major performances.
Smith was also instrumental to the achievements of Wilde Lake's improvisational team. The team participated in an international improvisational acting competition in Nashville, Tennessee.
"His ability to play any character is why [the team] did so well. He really was an asset to the whole team," said Ms. Adler.
Gabe's main roles include the March Hare in Alice in Wonderland and Jeffery in the most recent production, Godspell.
Sophomore Jewel Stevenson's role of Alice in Alice in Wonderland said that one reason that Smith is continually given roles in the school productions is because, "he brings his own character to everything."
"It's almost impossible to get through a scene quickly with Gabe, because he can't help but bring up inside jokes. Especially because he just includes every actor in everything that's going on," says Stevenson.
Sophomore actress Sarah Bookton was quick to note his relationship with Senior Babette Newman. "Babette and Gabe are so funny together. And when they act together its just an amazing to see," said Bookton.
According to Sophomore Rachel Steingesser, "There's always something funny when you're with Gabe."
Leave a Comment