Simon Fines Brings Sense of Humor to Drum Major Position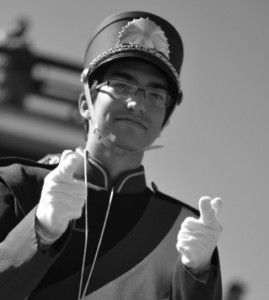 It is halftime at a Wilde Lake home football game, but fans are not flocking to the concession stand. Instead, they wait for Drum Major Simon Fines to lead the marching band out onto the field. As Fines climbs onto his podium and blows his whistle, the band explodes into music and the crowd shakes the bleachers.
Fines is a senior at Wilde Lake who was recently inducted as the Drum Major for the marching band. He began playing the flute during the third grade, at the age of eight. At the end of the 2011-2012 school year, Mr. Dutrow hosted a formal audition in front of the entire marching band for any rising senior who wanted a chance at being the Drum Major. After the "nerve wracking" audition, the band selected Fines for the position.
According to Fines, "The first football game was pretty scary. I was used to being in the back with the other flutists, but as Drum Major I had to be at the very front, all alone."
Despite the unavoidable nerves that come with the position, Fines enjoys being a leader. "The best part is definitely the respect. The marching band members really respect me and my decisions, and that really makes the hard work worth it in the end," said Fines.
Leave a Comment