"Strange Smell" Causes Students and Staff to Evacuate
On September 1, the fourth day of school, administration evacuated students and faculty from the building due to a smoke smell on the second floor, according to Mr. Crouse.
The evacuation, which interrupted classes for nearly a half hour at the end of fifth period, came as a surprise to students and faculty, who believed that the evacuation was a fire drill. Earlier that morning a fire drill scheduled for third period had been cancelled due to the rain.
Within minutes, four fire trucks and an ambulance arrived on the scene, and a crew of firefighters entered the building with hoses as students stood by, taking advantage of the break.
Teachers, such as English teacher Mr. Townsend, were surprised and concerned about the evacuation. "It definitely interrupted class and set two of my classes behind schedule," said Townsend. "However, I'm impressed with the flexibility of our students and staff and with our administration's dedication to keeping us safe."
Lieutenant Harvey determined that the smokey smell came from the school's ventilation system.
"In room 216, they smelled a slight odor of smoke. We got up there, and the custodians were already working. The AC unit was smoking, so we opened up the ceiling and took a look," he said.
According to Lieutenant Harvey, the school building remains safe for students and staff. 
Misbah Farooqi contributed to this article.
About the Contributor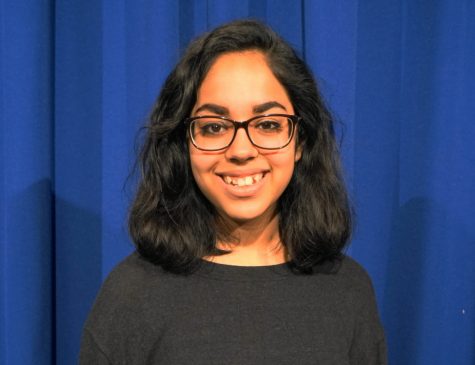 Anjali DasSarma, 2015-2017 Editor-in-Chief
Anjali DasSarma, Editor-in-Chief, (2013-2017)