Wilde Lake Teachers Share Uncommon Paths to Success

Sometimes it feels as though we are all stuck on the same  path. We go to school, apply for college, and go to work. But it is important that we remember there are other options, and we do not have to follow the traditional path. Not all Wilde Lake teachers did and they experienced many different things that they would not have if they followed the traditional route.
Before deciding to travel the globe for four months, math teacher Ms. Hill went to the University of Maryland for four and a half years.
Fiji, New Zealand, Australia, Singapore, Thailand, the United Arab Emirates, and Turkey are just a few of the many places that Ms. Hill visited during her time abroad.
"I got scuba certified in Thailand and went snorkeling on the Great Barrier Reef in Australia," said Ms. Hill, "I got to do so many once-in-a-lifetime type of things that were packed into a four month trip."
Istanbul, Turkey was her favorite place she went because, "it was one of the first places I felt had a different culture and environment. Turkey really opened my eyes up to a totally different culture and way of life," said Ms. Hill.
"The craziest thing I did was get my nose pierced in a tent in Thailand. I loved it and there's one picture of me with it," said Ms. Hill.
"My dad did not want me going, and he worried every day that I was outside of the country," said Ms. Hill. "Yet he understood I was an adult at that point, this was something I wanted to do, and I had the funds to do it."
For science teacher Mr. Mandl, however, his father did not approve of his decision to drop out of college. "My dad was distraught. He was a very disciplined man, and for him that was just disastrous. He thought that I'd be a bum for the rest of my life," said Mr. Mandl.
Once he dropped out from Cornell University after the first two years, Mr. Mandl traveled out west to the Rocky Mountains. While working in hotel kitchens, he would rock climb and explore the outdoors from Yellowstone National Park down to the Grand Canyon.
"The most memorable thing I did was horseback riding into the Grand Teton Mountains for a week, just being out in the wilderness with no markers or trails," said Mr. Mandl.
After spending more than a year in the Rockies, Mr. Mandl went back to Cornell University to finish his degree. "When I went back to college, the difference between me and everyone else was that I understood what the pressures of the real world were and I was much more focused on finishing," said Mr. Mandl.
Mr. Mandl graduated from Cornell with a degree in English Literature and Biology. However, once he graduated, he became a Maryland stockbroker.
After five years, he became interested in biofeedback, a therapy to help people relax and control symptoms like migraines, and set up his own business to help relieve stress related symptoms in patients. When he decided he no longer wanted to have that career, he became a recording engineer for rock and roll bands on several major labels.
"The lifestyle of the recording business did not fit once I met my wife and had a kid," said Mr. Mandl. "Yet since I had a biology degree and knew that science teachers were always in demand, I became a teacher."
"My advice to everyone is to try to be sure that your thoughts for a career are something that you really want to stick with," said Mr. Mandl, "If you discover after a few years that you do not like a path, have the courage to change. I've done it and it's worked out for me."
Every person has a unique path to where they are now, and history teacher Ms. Platou's journey is no exception.
After high school, she went to University of Texas at Arlington, then transferred to University of North Texas. "I commuted the forty-five minute drive back and forth every day from my parents house to college," said Ms. Platou.
To pay for her tuition, Ms. Platou worked five days a week at Six Flags. "There are definitely pros and cons to working through college," said Ms. Platou. "It was beneficial that I earned life skills that I could use in my job later, but it was hard to maintain grades and the first years of college were not easy."
"Looking back, I feel like I never really had the true college experience because I did not live on campus and I had no friends from school, they were all through work," said Ms. Platou.
Ms. Platou had many crazy, once-in-a-lifetime experiences from working at Six Flags. "There was one time a guest was swinging a possum around by its tail and I had to stop him and tell him to put the animal down. The man had gathered a crowd around him as if he was one of the events," said Ms. Platou.
At one point while working, she was the candy vender for the amusement park. "People would come and bring me samples so I always had candy on my desk that people could come and try out, then I got to decide whether I wanted to buy that for the candy stores," said Ms. Platou.
After seven and a half years in college, Ms. Platou got a degree in history and teaching. "By working through college, I learned some definite life skills that I was able to take with me because I had extra responsibility," said Ms. Platou. "Working with people helped me transition easier into teaching."
Even though adults may try to pressure students into a traditional path through college, there is no right or wrong path to take. Many Wilde Lake teachers took paths that are not considered "normal", and they had many positive and rewarding experiences.
About the Writer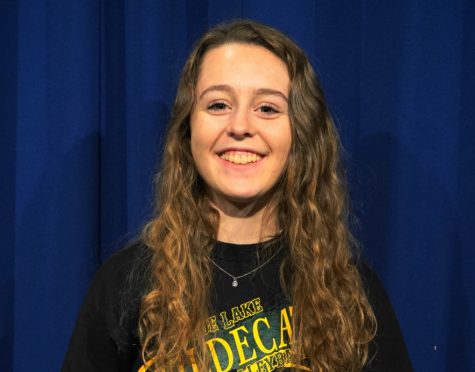 Rachel Eisenhauer, 2016-2017 Arts Editor
Rachel Eisenhauer, Arts Editor, (2015- 2017)