Speech and Debate Students Compete at Nationals in Florida
"I used to get so nervous with public speaking and reading out loud in class," said junior Sarah Nemsick. Seeing Nemsick now, speaking clearly and thoughtfully, it's hard to imagine a version of her that had trouble with verbal communication.
"I really wanted to improve [my public speaking], so I joined Speech class," said Nemsick. "Speech has really helped me with my public speaking, I'm really good at public presentations and I don't get nervous anymore."
The speech and debate club has been running for over 20 years at Wilde Lake, and the stories from the students involved are all very similar. Students describe the club and class helping with leadership roles, communication skills, and research techniques.
The team's sponsor is English teacher Ms. Midgley, who has coached since 1997.
"Most of our team members have been recognized at some point during the season, but there are several students who routinely medal in multiple events: junior Sara Shemali, junior Meghna Manohar, sophomore Rustin Pare, and sophomore Destiny Lawrence," said Ms. Midgley.
The club members compete, respectively, in six major tournaments, league finals, and nationals each year. During typical meetings, students share ideas about their cases and work on researching the topics they get every two months.
Junior Sara Shemali has been a part of the debate team since her freshman year and has participated in 11 contests this year and will join Tiara Hines and Meghna Manohar this year at the national competition. This year at states she has won first place in two competitions and fourth place in a duo performance with Manohar.
Research, she says, is a huge part of being on the Speech and Debate team.
"People underestimate how much research goes into debate, because you really have to know what you're talking about. Debate has helped me learn how to find better research and to know where to look to find scholarly articles."
The team debates philosophical ideas to argue about the "world as it should be," said Ms Midgley.
During the meetings, the students rehearse their presentations and share constructive criticism and give feedback.
"We work together and come up with ideas as a team," said Shemali.
About the Contributor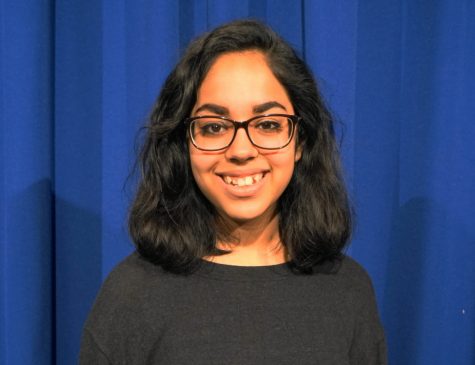 Anjali DasSarma, 2015-2017 Editor-in-Chief
Anjali DasSarma, Editor-in-Chief, (2013-2017)