Ms. Lopez Announces Retirement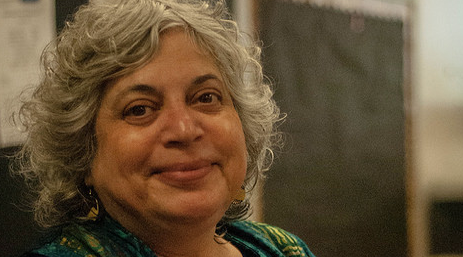 "Obey The Lopez" reads the sign at the front of Ms. Lopez's classroom, a gift from the Class of 2013 for her birthday. The sign describes her unique persona perfectly: regal and wise with a hint of mischief.
Well known for her one-of-a-kind personality and worldly approach to teaching, Ms. Lopez has dedicated her life to helping others.
Ms. Lopez lived in the Bronx until she was 14, when her father took a job as a union worker in Detroit, where she would finish high school and get her undergraduate degree at Wayne State. After earning her undergraduate, Ms. Lopez earned her masters degree in English at Michigan State. While getting her masters, Ms. Lopez met her husband, and together, they moved back and forth from Michigan to Colorado and finally ended up in Washington D.C, where Ms. Lopez went to law school.
After law school, Ms. Lopez worked as a civil rights lawyer for the NAACP for four years. Then, she earned a second masters degree in teaching at Johns Hopkins.
In her career, Ms. Lopez has taught college classes at the University of Michigan and Wayne State. She also taught a program to help laid off workers get back on their feet. She spent the end of her career teaching English in high school.
In total, Ms. Lopez has been teaching for 27 years. She has taught in the Howard County school system, at Hammond High and Wilde Lake for the past 15.
While establishing her career, she also traveled around the world and visited China, Cambodia, Italy, Hungary, Germany, among many countries.
Ms. Lopez began teaching in 1974, but her love of literature goes back to when she was a young girl with a vivid imagination. She says she began teaching for the inter- action with people, the creativity, and the independence that the profession provides. For Ms. Lopez, teaching was a mission.
"Education to me is not just limited to the classroom. It's what life is all about, always learning. You can only learn if your
mind is open to it, so I hope my students continue to have open minds," said Ms. Lopez. "I hope that they continue to read and think for themselves and not just regurgitate what has been told to them, because that is not education in my mind. I hope that they continue to grow as independent thinkers."
Ms. Lopez's experience and wisdom help her in being able to spread her ideas about individuality which have inspired both students and her coworkers, says Mr. Townsend.
"She encourages me to have an opinion, to do what is right, care about people, and be myself," said Mr. Townsend.
Not only has Ms. Lopez taught many students over the years, but they have all taught her something.
"I've learned new words that I never thought about as having a different meaning, patience on a deeper level, and extending compassion. Teaching has enriched my compassion for others," said Ms. Lopez.
Throughout her career, Ms. Lopez fought for the rights of students and teachers, as she was a representative for the teacher's union.
After she retires and gets surgery on her knee, "life begins!" said Ms. Lopez. She is excited about what awaits, and will be working on writing stories, traveling, and working.
"I'll be enjoying myself, really," said Ms. Lopez.
Wilde Lake will be losing a unique and knowledgeable teacher. The students wish her all the best.