Arts Program Welcomes Two New Staff Members
The art wing had two rooms that needed to be filled for the 2021-2022 school year: an art room and the dance studio, Ms. Morningstar and Ms. Tucci made these rooms their own while starting their journey at Wilde Lake.
A World of Creativity, Color, and Positivity
Art with Ms. Morningstar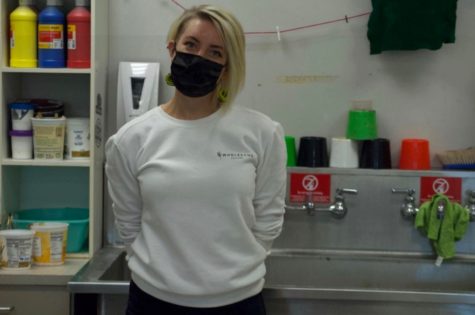 Tucked back in the corner of the school, Art 1 teacher, Ms. Morningstar, illuminates positivity and creativity throughout room 155 with flexibility and expression.
Ms. Morningstar guides her students through art with a lens of positivity while trying to find the good in everything that she and her students try to create.
"The world teaches us to look for the negative and cut people down. We live in a society of negativity. I always try to look on the other side and find something that is beautiful, interesting, or something that is a win," she says.
She presents her class in a way so that her students walk in the door wanting to try. She speaks to her students with a certain level of respect, as more of her peers rather than her students.
"I try to create a very safe place where people feel comfortable testing new things and not being afraid to fail. I don't think there are mistakes. I think there are always new things to learn from," she says.
This philosophy allows Ms. Morningstar to cultivate a sense of creative thinking in her classroom, which is exactly her goal. She wants her students to be the most successful people that they can be and believes that creative thinking is the way to create the best version of her students.
"Steve Jobs didn't become Steve Jobs without having great creative thinking skills," she says. "Anyone who is an innovator is a creative thinker."
Creativity fuels Ms. Morningstar's classroom and her attitude as a whole as the constant creativity in her classroom allows her students to find the good in their artwork.
"I love watching people be creative. I love watching that moment when a kid realizes they created something they never thought they could create before and they have an ah-ha, I can do this moment," Ms. Morningstar says.
More than Movement
Dance with Ms. Tucci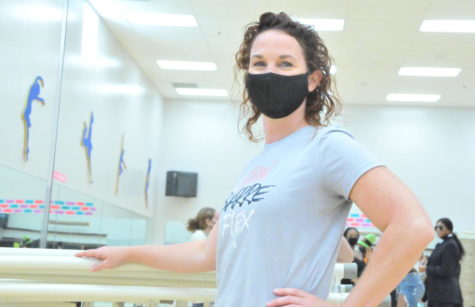 Since she was three years old, Ms. Tucci knew what she wanted to do: teach dance, now she finds more in dance than the movement itself while living out her dreams.
This year, after 19 years of teaching, Ms. Tucci finds her place in the Wilde Lake dance department, taking over for Ms. Estabrook. Ms. Tucci is working towards building the program that Ms. Estabrook established, and is doing so through perspectives she has worked to compile throughout her years of dance experience- dancing as a student in Howard County, teaching dance in Howard County, and taking on the role as lead dance teacher in Howard County.
Ms. Tucci says that she is a firm believer in the fact that the idea of dance is more than just the movement to song. "To me dance is life. It's like this little microplasma of what life is on the bigger spectrum. We learn things in dance that are major life lessons: if at first you don't succeed, try again, preserve, keep going, step outside of your comfort zone, try new things, and push your boundaries in terms of creativity and what we think we can do," she says.
"
Dance is a non-stop challenge and a non-stop learning experience. You can never stop learning.
— Ms. Tucci
Ms. Tucci says she sees the impact dance has on her students in real time each day. She says, "I think that especially for high school students dance can be such an outlet for them to discover who they really are. There is always something new to discover in dance and in that there is always something new to discover about yourself. I see their confidence grow."
"The idea of just try, don't give up, and when you fall get back up as well as the idea of persevering and having a good work ethic really sticks with the dancers. Just so many life lessons can come from dance," she says.
"You can go into the working world and if you're able to take these things that dance teaches you such as all the creative thinking and problem solving skills and the ability to reflect on your own self, you're set up for success. I know that dance will set my students up for success," she says.
"I love bringing all the benefits of dance to so many people," Tucci says.
Leave a Comment