Ms. Williams Returns, Coaches Volleyball team to Third Round of Playoffs
This year, Ms. Williams came back ready to go from maternity leave and led the varsity volleyball team to its second 11-5 season in a row.
Getting further into the playoffs than they have in the past 15 years, the team eventually lost to Glenelg in a hard fought 3-1 loss in the section finals.
The varsity volleyball team also lost to Centennial, Reservoir, Glenelg, and Marriotts Ridge in the regular season.
However, they had many successes.
Kelly Surkovich led the team in kills and digs with 261 kills and 80 digs, Carmen Freeman assisted the team with 246 kills, and led in aces, with a total of 44. Rebecca Chamblee led the team at the net with 67 blocks, while Meghan Morales contributed 329 sets.
These players helped bring the team to many victories throughout the season.
This year, the team won against schools that the seniors had never beaten before, such as Mount Hebron, River Hill, and Howard.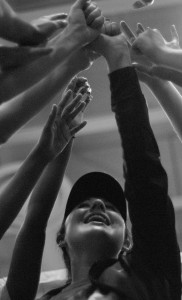 "This is the strongest team that I ever played with," said Co-Captain Kelly Surkovich.
The team worked hard for their victories, as they had to overcome many challenges to get there.
Key player, Faith Leslie, stepped up to the plate after setter Meghan Morales tore her ACL, MCL, and meniscus playing against Marriotts Ridge, ending her high school season.
"I got a lot of support from the coaches, but Meghan was my main supporter and I was very grateful for that, especially because it was such a big change for me," said Leslie.
For Coach Williams this season brought some changes as well.
"Being a mom has shifted the way I think," said Williams, "I think I'm a lot more patient, tolerant, and understanding."
She is hopeful for future seasons, and excited for what the future will bring.
"I think we had a solid group of girls, with both skill and chemistry," said Coach Williams, "and I am looking forward to a great upcoming 2015 season."