The Beautiful Complexity of Having Sisters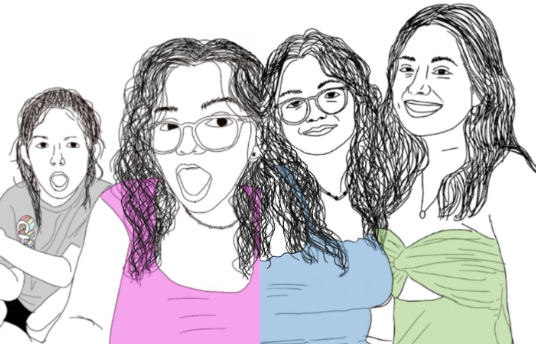 I used to consider it an insult to be compared to my older sister. In elementary school, I was called "Mini Ashley" by my teachers because they all taught my older sister Ashley first. I felt like they forgot I was my own person, and I didn't like being compared to her.
I was only three when my sister Abby was born, so I can't recall a lot about her growing up. However, I was eight when my cousin Jocelyn was born, so I can remember most of her life.  
Jocelyn is an only child and lives near me, so she constantly sleeps over at my house, FaceTimes me, and texts me from her iPad. 
Jocelyn's role in my life quickly moved from cousin to little sister. She has changed my view completely on the importance of siblings, biological or not. 
Ashley says she instilled my desire for academic achievement. I watched Ashley excel in school, which motivated me. 
I think life is easier with an older sibling guide. Ashley taught me a range of lessons, from how to do math to what a healthy relationship looks like. In return, I let her download Snapchat on my phone, so my parents wouldn't find out. 
My relationship with Ashley is unique because I fully trust her. I know Ashley would never snitch on me, which I think defines a healthy sibling bond. 
"I'd rather have a dog than a husband," is something Jocelyn said to me. Husbands can leave you, but a dog never will. As funny as this statement may sound, it made me realize I'm the person Jocelyn feels she can tell her thoughts to, which is how I feel about Ashley. 
Outside of my personal experiences, there are studies that show that younger siblings copy and elicit care from older siblings, which is why older siblings are often leaders and caregivers.
Sometimes, especially in single-parent households, older sibling responsibilities turn into parentification, where the older sibling assumes a parental role. According to the U.S. Census Bureau, 19.8% of households in Howard County with children are run by a single parent. 
Sophomore Lilian Droney lives with her mom and ten-year-old sister Melody. Lilian says although she and Melody are two completely different people, she can still see ways her sister reflects her. 
Lilian views Melody copying her positively. "I think I'm not that bad, so it's not a bad thing if she's doing things that I do," she said. 
Ashley helped shape my personality, which I didn't want to acknowledge until I noticed Jocelyn taking after me. It makes my day when Jocelyn calls to talk about our hobbies because it feels like there's a part of me in her. 
Sibling relationships are some of the longest-lasting relationships someone can have, and they are constantly changing. I'm very fortunate to have a healthy relationship with my sisters because that isn't true for all siblings. 
I'm grateful for Jocelyn, who encourages me to value my sisters more. I'm grateful for Ashley, who constantly sets an example of who I should strive to be. And I'm grateful for Abby, who allows me to make mistakes as an older sister and learn to be better.
Leave a Comment