Wilde Lake Parent Group Organizes Non-School Affiliated Prom
Facing a challenging school year of virtual learning, seniors looked forward to finishing high school with the greatly anticipated tradition of prom. Instead, they were met with the county's decision to cancel all proms due to the ongoing pandemic. Disappointed for their children, Wilde Lake parents came together on Facebook to create the WLHS Class of 2021 Parent Group and organize their own parent-facilitated prom.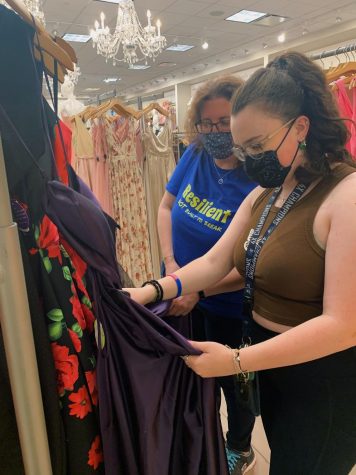 The Facebook parent group already sponsored two outside-of-school activities this past year, the Senior Breakfast and Fall Fest. Ms. Churilla, a main coordinator of the parent group, has been active in making sure this event goes as smoothly and safely as the others.
Wilde Lake Spanish teacher Ms. Sweitzer says that the group formed organically and spontaneously. It began with one high school starting a parent group and now every high school has one. The senior parent groups work together, bouncing projects off each other and making sure to adhere to county guidelines. "It's become a very collaborative community and there are a lot of parents out there who really want to make it a special year for the seniors," Ms. Sweitzer says.
As for the elephant in the room – holding a prom during the pandemic – the parent group has made sure to follow all CDC guidelines. 
As of May 1, according to the Howard County Government website, cases were at an 8 percent infection rate, well below the national average. As the cases have decreased and more people have been able to get vaccinated, the CDC has loosened outdoor gathering restrictions. 
According to the CDC, people can gather at three to six feet apart and do not have to have masks on if the distance is kept and they are outside. They also loosened capacity limits for outdoor events, increasing it to 50%. 
Despite the change in CDC guidelines, masks will be required at all times unless students are eating, drinking, or taking a quick photo. Social distancing will also be a requirement. Hand sanitizer will be provided as well. 
According to Ms. Sweitzer, roughly 40 percent of seniors have signed health and safety waivers and are committed to attending. Anyone bringing a guest must also fill out the waivers, and the guest is required to be a Wilde Lake student. 
The group of adults feel comfortable organizing this event based off of the results of the past two they put together. "The kids at the first two events were very responsible and enjoyed being there," Ms. Churilla says. "If things didn't go well in the past, I think that the parents would have been more apprehensive about doing this, but no one feels that way."
The private event will be held on Saturday, May 15 from 6:30-10pm at Forest Hill Swim and Tennis Club, an outdoor property with 19 acres of space for the senior class. 
The services available there will be similar to ones in previous proms. For music, DJ Stubaby from the 2018 homecoming will be running the night's playlist. Meals will be catered, and four to five food trucks will service as an easy and safe way to provide food.
The dress code will also be similar to previous proms. "We're really trying to keep it as similar to the traditional prom with all components possible," Ms. Churilla says. 
Wilde Lake teachers are also in support of the parent-facilitated prom, knowing prom's significance to seniors. "The lack of social gatherings has really had a toll on a lot of kids. I've seen it first hand," says Ms. Sweitzer. 
Students also believe in the measures the parents have taken to create a safe environment. "Based on the last two events they held for us, I am comfortable with attending," senior Alina Tucker says. "I'm so excited the parents have given us this chance to have a senior prom, I'm really looking forward to it." 
Senior Victoria Stralka feels the same way, and she is thankful for the parents planning this event. "I am so glad we can still get the opportunity to have a prom and the chance to have these last memories of high school together," she says. 
The parent group continues to plan for the event as the school year comes to a close. "We're doing everything we can and for that reason we continue with confidence," Ms. Churilla says. "We feel like you deserve it, and we feel like you're grown and responsible enough that you appreciate it, and that you can enjoy it for what it is and make it something really special."
View Comments (2)