Essential Workers: Valuable, Commendable, and Steadfast in the Face of Fear
COVID-19 has established just how important essential workers are. With my mother being one of them, I've become even more appreciative of these workers and what they do. I never imagined I'd be here in my bed thinking, "Is really what the world has come to?"
Just 2 months ago, when I found out about COVID-19, I thought it was going to be something that comes and goes. But then school was canceled, and I said to myself,  "Okay, we'll be back in two weeks." Two weeks quickly became a month, which turned into the rest of the school year. People started dying, the whole world was panicking, everyone was buying up all of the food and cleaning supplies, you aren't able to see your loved ones, and everyone has to be 6 feet apart. I guess wearing masks is the new normal. 
A whole lot of people, including myself, are complaining about how we are stuck in the house all day every day. There's little to do besides making TikToks – which can be fun and all until the joy fades, and I'm just left with the reminders of the craziness of the pandemic.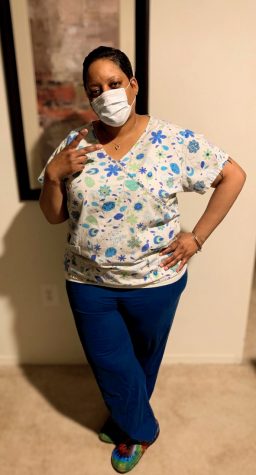 WHEN WILL THIS BE OVER? I ask myself that question every day. But here's the thing that we aren't talking about: What about the essential workers, like my mother, who still have to go to work every day? She is risking her life for us, so we won't have to suffer anymore.
This virus seems to be killing off more and more people every day.  I can't imagine being away from my family and, in just a matter of seconds, not being able to see them ever again – it makes me feel bad for complaining about my small frustrations. Few people really understand how scary it is that my mom has to go out each day.
My mother, a phlebotomist says, "I enjoy my career, and to be involved with the process of helping people. But as a mother of two daughters, I'm afraid of infecting my children."  In the beginning, I was afraid just like my mother; afraid she would infect my sister and I. When she finally got tested for the coronavirus and it came back negative, I'd never been more happy.
I think that it can be easy for many people to forget that all essential workers have families and lives just like us. 
They are human beings just like us. They have to go through worries just like us. So, the real question we should be asking is, "What can we do as a whole to eliminate this horrible invasion, the Coronavirus?" Everyone has been saying it for the longest time: stay indoors, stay away from people, and self-quarantine in your home. How many more people have to die for others to get the message?
My mother is helping to save lives while simultaneously people all around the world are breaking the rules and doing what they want, just making everything worse. "I feel helpful being able to continue the process of helping people during the pandemic, and I'm honored to be an essential worker knowing that my job is needed," says my mother.
It's really scary when I look at the news and see workers' children crying because they can't be with their families. I just think about how I'm very grateful to still have mine with me. I definitely appreciate my mother for all the things that she does to take care of my sister and I.
Everyone knows that when life throws you lemons you make lemonade, and in this crazy time with life handing us all a pandemic I'm trying to create positivity. All of our lives are changing and sometimes things are really hard, but, like my mom, we're all being asked to do whatever we can to slow the spread of COVID-19. We all have to do our best to help one another, even if our help is as simple as adhering to social distancing guidelines.
Leave a Comment