English Students Welcome Mrs. Read to Wilde Lake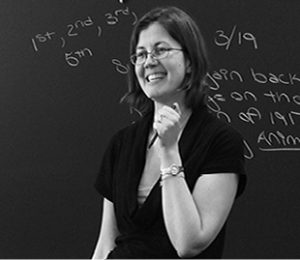 After months of substitute teachers Mrs. Read was made a permanent teacher for tenth graders at Wilde Lake.
In November, Wilde Lake said goodbye to Mrs. Creed, a longstanding and beloved member of the Wilde Lake staff. Mrs. Creed, who taught Advanced Composition as well as several English 10 classes, left Wilde Lake to take advantage of an opportunity she has pursued for quite a while: writing curriculum for the Maryland Department of Education. Her classes were taught by a substitute teacher until January, when students walked into their English classes to find Mrs. Read standing in thefront of the classroom, ready to teach.
Mrs. Read taught at Hammond High School for 15 years and then worked for the Howard County Board of Education. She is transitioning back to teaching this year.
"I think I missed the student interaction more than anything else," said Mrs. Read, referring to her time working at the Board of Education.
Mrs. Read has been welcomed back to the classroom with a warm reception. "Everyone is so friendly . . . I already feel like I'm becoming part of the community."
Sophomore Jaskeerat Ahluwalia is one of the English students who struggled with several long-term substitutes and an unstructured curriculum. She appreciates being able to finally get back on track, and is grateful for having such an enthusiastic teachers in the classroom.
"Mrs. Read is always smiling," said Ahluwalia. "She makes you really love English class."
Mrs. Read's passion for teaching has proven essential in the rough transition between teachers. "She brings so much enthusiasm to the class," said Sophomore Sabrina Van Gracht.
Sophomore Rachel Steingesser appreciates the effort Mrs. Read put into making the switch as easy as possible for her students. "Mrs. Read is always available when you need her," said Steingesser. "She's very elaborate when answering questions, and she's always happy to help."
During her time at Hammond, Mrs. Read coached cross-country, volleyball, and lacrosse. She hopes to become involved in extracurricular activities at Wilde Lake as well. "I'm not sure if I'm going to coach this year. I'll definitely attend some of the games and maybe look into some coaching opportunities in the future."
Outside of school, Mrs. Read loves to travel. Last summer Mrs. Read attended the Triathlon at the London Olympics and has made it her goal to travel to England every summer. Mrs. Read has also traveled to Ireland, Greece, Turkey, and Scotland. She will be joining Wilde Lake's Italian classes as they head to Italy this spring.
When picking up a class in the middle of the year, there are unavoidable obstacles that any teacher is bound to face. "I'm so fortunate to have such amazing students," said Mrs. Read. "I don't think it would be possible to just come in here in the middle of the year and start teaching if the students weren't as willing to work with me as they have been."
The school appreciates the efforts Mrs. Read has made as part of the Wilde Lake staff and hopes she will continue to teach at the school in the years to come.
Leave a Comment