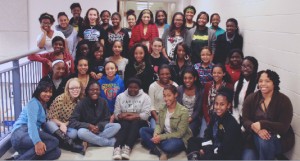 Junior Jesula Fleurizard and her family finally made it to the United States from Haiti after 14 years of paperwork. While living in a poor and underprivileged country, the Fleurizards dreamed of moving to a place where their children could have better opportunities.
"My family really values academics and I have always known that I wanted to strive to better myself and make my parents proud," said Fleurizard. "This inspired me to join the Delta Scholars."
Fleurizard is one of the many young women who were nominated for and accepted into Wilde Lake's new Delta Scholars program.
Delta Scholars is the first program at Wilde Lake intended to promote academic excellence and character among today's young women.
This year's accepted women have expressed great pride in their new responsibilities as Delta Scholars.
"Because I am in the Delta Scholars, I have to carry myself as a young woman with class and confidence and take great pride in myself," said Senior and Delta Scholars Chairwomen Montinique Morgan.
Mrs. Collier is one of the faculty sponsors for the Delta Scholars. She believes that Morgan's attitude towards the program accurately reflects the purpose of the program: self-improvement and betterment of the community.
"The goal is to make sure we are giving back to the community, helping the girls learn leadership skills, and preparing them for success both during and after high school," said Mrs. Collier.
The Delta Scholars have already begun planning trips and volunteer opportunities. These opportunities include volunteering for the Green Day environmental awareness program, preparing donations for the Grassroots homeless shelter, and taking a field trip to watch a performance of The Color Purple.
The Delta Scholars program also has a strong focus on academics. Members must maintain a GPA of 3.0 or higher and anyone wishing to join the program must receive recommendations from three teachers or advisors.
For Sophomore Abena Ntiamoah, the standards, academic and otherwise, that must be upheld as a Delta Scholar are a motivation to focus on her schoolwork.
"I have to keep up my GPA and help people more often . . . I am really honored and excited to begin growing in this program," said Ntiamoah.
Mrs. Collier believes that participating in the Delta Scholars program will help its members gain "practical skills for the real world, including how to manage money, volunteer, write essays for colleges and jobs, assert oneself in society, and have confidence in one's leadership and self."
According to Mrs. Collier, the program this year sought out potential members using Aspen. The students were narrowed down based on gender, race, and academic record, until a select few were offered positions in the program. Next year, said Mrs. Collier, the application process will be open to all who apply.
Regardless of race, the young women who have been inducted into the program have expressed excitement about being a part of a "safe and nurturing sisterhood," said Mrs. Collier.
Morgan, Chairwoman of the Delta Scholars, will be the first woman in her family to go to college. She is inspired by the "sisterhood and unity" promoted by the Delta Scholars program and plans to pledge Delta when she attends college this fall.
"It's unifying everyone not solely based on whether they are African American, but because we are all Americans in seek of equal opportunity," said Morgan. "I am just excited now to take as much from this program as I can."