Shir Kaplan, Nucleus of Dance Company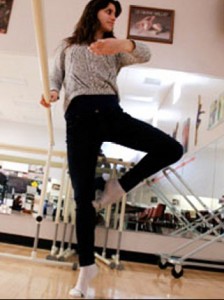 As the house lights go down and the audience quiets to an excited whisper, Senior Shir Kaplan takes her place on stage, along with the other twenty-one members of the Wilde Lake Dance Company. She takes a breath and mentally prepares for the curtains to rise and the music to start.
Kaplan has been dancing at various private dance studios in Maryland since she was four years old and has danced at Wilde Lake since her freshman year.
Coming from a private school, Kaplan was eager to join teams and clubs that would allow her to meet other students with interests similar to her own. She joined the soccer team and the dance department.
Although Kaplan did not continue playing soccer after her freshman year, she progressed from Dance III to Dance Company before her second year at Wilde Lake.
"My first year in company was amazing," said Kaplan. "We all got along so well and really were a family. We would have [Dance Company] sleepovers all the time and would plan nights to go out to eat whenever we could. Even rehearsals were always a blast."
Towards the end of the 2011-2012 school year, the Dance Company members voted Kaplan as co-captain for the next school year.
"I was extremely excited and proud to be chosen," said Kaplan, "I really feel connected to the department and it was something I had looked forward to since my first year in company."
According to Kaplan, leading a troupe of dancers brought out leadership qualities that she had never known she possessed.
"My senior year has really allowed me to grow as a person, since I was able to be school president and dance company co-captain. I know both of these experiences will stick with me far after high school," said Kaplan.
Currently, Kaplan and the other company members are working on holding auditions for the 2013-2014 school year. The company is also in the progress of choreographing their spring concert.
But according to Kaplan, "One of the most exciting parts of this Dance Company is that we are working on fundraising for a trip we are taking to Disney World this February."
After graduating, Kaplan will continue dancing in college, but she plans on double majoring in pre-medical studies and psychology rather than pursuing a career in dance.
View Comments (1)