Ms. Becker Selected as Teacher of the Year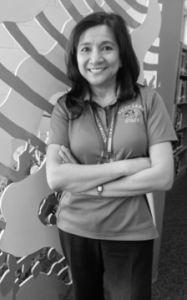 Dim, dreary, dull. These are the words that often come to mind when entering a typical math class. But enter Ms. Becker's classroom and you will immediately be greeted with bright and positive energy that brings math to life.
That's what makes Ms. Becker stand out as a teacher and what earned her the "Teacher of the Year" title.
Ms. Becker's love for math is immediately apparent to her students, and it encourages even the "math-haters" to look for the positives in math.
"Her love of math is contagious to her students and the teachers that work with her," said math teacher Ms. Parker.
Her students appreciate her nontraditional ways of teaching that can transform boring and complicated subject matter into interesting and understandable topics.
"She worked closely with me on creating a song to remember the difference on type one and type two errors, which are similar but also extremely different, and
she helped me create a song that clearly separates them," said graduate Jewel Stevenson.
These creative methods of teaching are how she makes sure every student is being taught in the way that will allow him or her to be most successful, said Ms. Becker.
"Ms. Becker is always willing to help her students no matter what and unlike a lot of other AP teachers she actually teaches material instead of relying on the students to teach themselves using the textbook," said Faith Taylor, another recent graduate of Wilde Lake.
Ms. Becker appreciates taking the extra time to listen to her students when they tell her how they learn best.
"They're not telling me how to do my job, they're telling me what works for them," said Ms. Becker.
Graduate Taylor Tobias said, "She's the teacher with the most personality, and she actually makes math kind of fun!"
However, Ms. Becker will be leaving Wilde Lake next year, as she is moving to North Carolina.