Game, Set, Match! Tennis Has Best Season in Five Years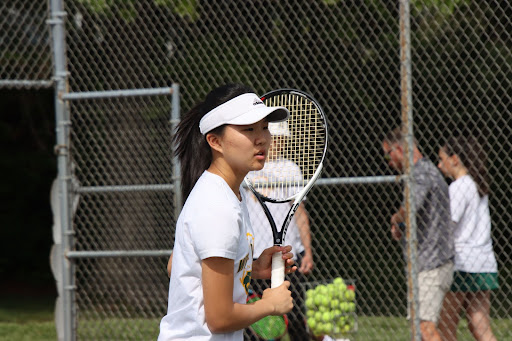 After Coach Shaw's third year as coach, the 2023 Wilde Lake tennis team is ranked ninth in the county with their best season in five years, according to County Sports Zone.
This season, the boys and girls teams each played 16 games total, both cinching five wins. The girls team has upset both Howard and Glenelg. These are the teams' highest statistics since the start of Coach Shaw's run in 2021, according to County Sports Zone data. In the 2021 season, the boys won one match while the girls won three.
It has been an uphill battle since 2019 for students on the tennis team, according to senior captain Sajana Vigna-McLaughlin. "Looking at the team before [2021] and now, it's [like] night and day," said Sajana. In 2019, the team lost its coach, leaving Sajana to find an administrator willing to coach the team. "My freshman year… it was a really small team. Now we have gotten more kids to come out and we've only seen improvement," she said.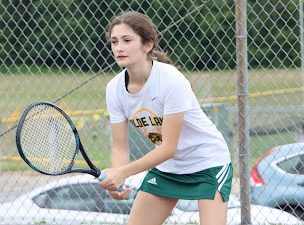 The reason for such improvement within the program, according to Coach Shaw, is a combination of hard work and coaching to help refine the team's potential. "The best thing we have is we've implemented a program where the players are teaching other players," said Coach Shaw. A part of this program, according to Coach Shaw, is having the head captains by his side. Sajana and Hughes Charles currently serve as Shaw's head captains. The two provide "technical advice" for the team and "moral support before and during matches," according to junior assistant captain Johanna Shin.
According to Coach Shaw, when he began coaching, he focused on always pushing the players to do their best. The players and managers have seen his approach in action. "Even if we're down a point or down players, he still puts in 100% effort to show he's dedicated to us," said manager Noah Davidson.
Shaw's approach to coaching grew the team's sense of community, says senior Allison Lyons. Allison says this made them a stronger team. "We have become more of a team, which I feel has helped a lot. It's almost like a tight family. When we lose, we lose together. When we win, we win together." said Allison.
Moving forward, Coach Shaw says his biggest goal is for the team to compete against the "higher-ranking" teams within the county. He has accomplished part of this goal in his first three years. "My goal was in five years, to get us out of that bottom four placement and competing against the middle tier teams. We've done that in three," he said.
Leave a Comment