Start Times Pushed Back 35 Minutes Next School Year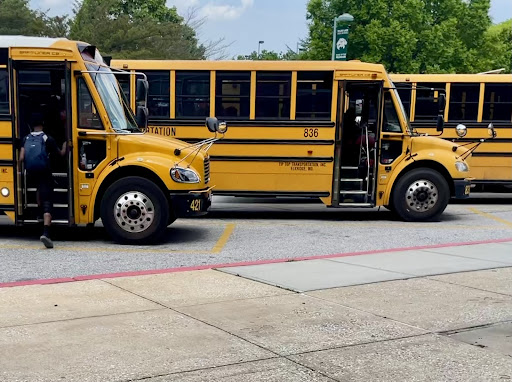 After decades of debate, Howard County Public School System start times will be pushed back to 8 a.m. for high schools beginning next school year.
In February, the Board voted to adjust start times for next school year by breaking schools into three tiers. Each tier starts at a different time. All 13 high schools are in the earliest tier, starting 35 minutes later.
After four years as Wilde Lake principal, Ms. Leonard says she is "pleased" about the change. "I think that it will help students with getting a little bit more rest and hopefully that will allow them to be able to come to school a little more refreshed," she said.
Yet, as a result of the walk area expansion, Junior Lee Lewis' sleep schedule will not improve. Lee will have to walk to school next year, taking more time than a bus, he says.
"Where I live, I won't have a bus," Lee said. "I have to wake up earlier to walk to school." Students and staff report that the change in start times will have an impact on their after school schedules.
Sophomore Sarah KC is responsible for picking up her elementary age sister after school, but this is complicated by the change in start times. "[The start times] make it harder for me to stay after school," said Sarah. "My sister lets out of elementary school, and since that is around the same time as high school [next year], I might not be able to stay for clubs."
This change will push everything back by 35 minutes. "I will get home later and have less time to do homework," said freshman Jackson Moon.
Math teacher Mr. Lookingbill has a first grade son who he is able to pick up from the bus stop at 3:45 because teachers are currently allowed to leave school at 2:45. His ability to pick up his son could be complicated by the change in start times.
"We don't know yet whether teachers' duties will extend early in the morning or after school," he said. "You can have a good idea and poor implementation, so we'll see what follows."
A large concern for students is that start times will not result in more rest. Johanna Shin, a junior, says that the start times will not cause her to get more rest in the mornings because "everything is just going to be pushed back an hour anyways."
"I know for a fact that I will definitely stay up later because I know I can wake up later," said sophomore Josh Wright. "The schedule has been ingrained since the beginning of time and now it's transitioning, so families are going to have to make that change. It's going to be difficult."
According to Ms. Leonard, student advocacy played a role in the change in start times. Ms. Leonard says that the change in start times is a "step in the right direction in terms of student well-being and student advocacy."
Leave a Comment