For Sneakerheads, They're Not Just Shoes
At Wilde Lake, we wear all kinds of different shoes. 
Among the most popular shoes, Jordans are one of the oldest. Despite being first released in the 1980's, they still manage to maintain their relevance. Nowadays, they are considered the origin of streetwear and sneaker culture.
"You don't have to be a basketball player to wear Jordans," said freshman Jael Smith. Jael says he wears Jordans because he likes the appearance and the history behind the shoe.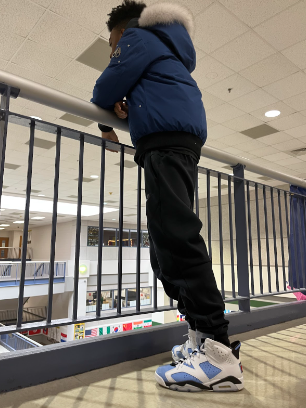 It was largely Michael Jordan's talent in basketball that led to international success of the shoes. Jordans created a new interest in the streetwear community, with other signature shoe lines like Kobes and KD. The popularity of sneakerhead culture, in which people collect certain popular brands of shoes, quickly spread to every corner of the world, including Wilde Lake. 
Freshman Olu Oluwo says that shoes are very representative of culture at Wilde Lake. "You see all types of shoes in the hallways, and you can kind of make out a person's personality by their shoes," he said. "People wearing running shoes are typically athletes, people who wear things like Jordans wear them for many reasons like history, the looks, or the status, and I think it's a very important thing to a lot of people at Wilde Lake."
Another factor for some is family. Sophomore Kamil Roberts says he finds his sneakers very important to who he is today, and it began with watching basketball with his dad.
"When it comes to shoes, my dad kind of shaped me into the sneakerhead I am now," he said. "My dad would watch Michael Jordan play, and he took influence from him and it passed down to me, and it is very significant to who I am today."
However, there have been several controversies in the sneaker world in the past few years. Issues within the culture have led to some concern. Yeezys and Kyries, are the former brand dealerships between Kanye West and Adidas and Kyrie Irving with Nike.
Both have been popularized at Wilde Lake alongside Jordans, becoming immensely popular among some students like Oluwo, but recent anti semitic comments from these figures have students questioning whether it's acceptable to continue to wear their shoes. 
"I think [West and Irving's actions] are not only detrimental to Wilde Lake, but to society as a whole. Kanye has such a big influence on everyone else, that him saying [antisemitic things] influences the way younger people act," sophomore Sam Helicke said.
Natalie Noyes, a sophomore, says it's unacceptable to wear their shoes after their statements. "You shouldn't wear them because both of them are antisemitic and by purchasing and wearing their shoes, you are supporting them indirectly and giving them publicity," she said.
Many have lost their faith in the future of sneaker culture due to artists' bigoted statements. "[When] Kanye comes out and says all this [antisemitic] stuff it gives a bad name to the sneaker community," says junior Elijah Dean. "I feel like the generation of culture we grew up on as kids is taking a bad path."
These issues have shaken the sneaker community. But despite this, some sneakerheads are trying to earn back respect for the art. 
Sophomore Justin Vosilis says he would like to see a recovery in the community. "There's so much history in the genre," he said. "The shoes influenced almost an entire generation to this day, and I don't think the history and culture should be lost just because of a few problems. People just need to be more mindful of who they support and put on a pedestal, as well as knowing what's right and what's wrong."
Leave a Comment