First Students in County to Lead Peace Circles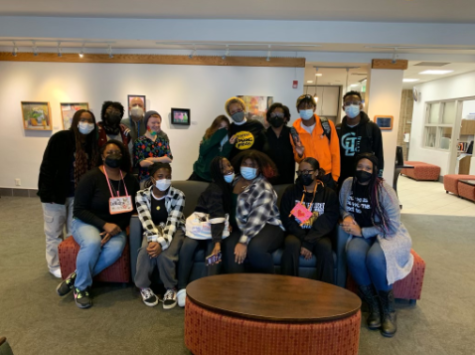 The week before Thanksgiving break, ten Wilde Lake students were invited to Slayton House to receive training in holding Peace Circles — a method of restorative justice where people meet to create community or resolve conflict. These students are the first students in Howard County to receive Peace Circle training. 
The students who attended were freshman Ela Sezer, sophomores Ven Heffner, Tolu Oliwo and Bria Kagwima, juniors Laurel Sands, Zaki Scarborough, Caitlin Beasley, and Lia Tarawali, and seniors McKenzie Lawings and Samya Miles. 
In 2017, Wilde Lake began incorporating restorative justice practices. According to The New York Times, restorative justice is the philosophy of giving offenders the chance to speak openly about their feelings among community members with the goal of bringing harmony back to a community.
Circles are hosted by a group of people sitting around a centerpiece — objects to represent earth's four elements that hold importance for the people involved. The purpose of the training at Slayton House was to make students into leaders in a movement that, since 2017, has been led by teachers, according to Special Educator and Diversity, Equity and Inclusion Liaison, Laura Collier. 
According to junior Laurel Sands, Peace Circles are about "creating safe spaces [where] people can express how they feel about a number of different topics."
Peace Circles and Restorative Justice initiatives as a whole are important for Wilde Lake, according to Ms. Collier. 
"I think it's important for students to hear from people that are equal to them," said junior Caitlin Beasley. "As long as there is always outside support for the students, it is a very effective approach."
One of the cornerstones of restorative justice is communication. Senior Samya Miles says she learned how to better express herself during training. "So many problems could be eradicated if you could just talk to someone," she said. "I think this world would be so much easier if people knew how to effectively communicate." 
Alongside communication, one of the central purposes of restorative justice is to restore community. "One of the major ideas that fuels restorative justice is that in community, people engage and respond differently,"  said Ms. Anjole Wright, former Peace Room leader. "So [with] practices like circles, we focus heavily on relationships and caring for people so [that] when conflict arises there is less need for punishment or exclusion."
Within this community, according to Ms. Wright, every member is equal. "There's no head of the table. There's no person standing over everyone," she says, "Everyone is equal. Their voices are equal, and their bodies are equally placed."
Though participants are working towards a shared vision of restorative justice and community, the initial attraction to the training varied. For Caitlin, the Peace Circles allowed her to exercise her sense for "right and wrong."  
 "I now know how to make people comfortable," said freshman Ela Sezer.  "I think [the peace circle] was one of the places where I felt that I didn't have to worry about what I said. There was nothing to be afraid of there."
These students have been active members of Peace Circles since their training, according to Laurel Sands, one of the attendees.
Ms. Collier says that while not everyone at Wilde Lake has participated in opportunities like Peace Circles so far, they are still welcome. "Over time, even the people who feel excluded will feel led to it," she said. "It's not an overnight fix. There are things we are forever learning."
Leave a Comment