To Artists, AI Stands for "Awful Intelligence"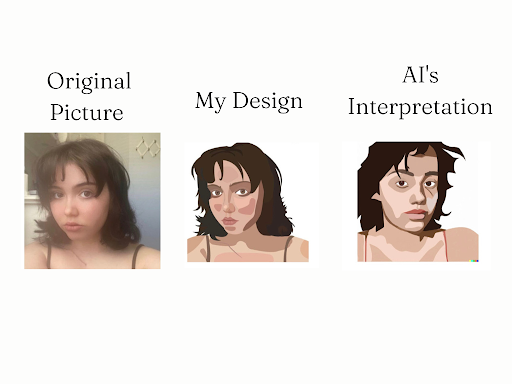 Ever since I could hold a pencil, I've been creating art. Whether it's a finished piece, a sketch, or just a doodle in my notebook, I enjoy the process of creating something from nothing. 
But my love for art expands past creating. I read art history books and visit galleries and museums often. Art has shaped my past, present, and what I hope to be my future. So you can imagine how frustrating it is for me when people talk about artificial intelligence as if it is the future of art. 
As ironic as it may sound, artificial intelligence is wrong on a human level. It is nothing more than a computer program, and it has been created to do one thing: create artwork. The problem is that it doesn't create art, but it just copies it. It takes the work of real artists and reproduces it without giving them any credit. 
Taking inspiration is one thing. Directly copying is another. This act is plagiarism, pure and simple. 
Furthermore, artificial intelligence takes away jobs from real artists. There are already a limited number of opportunities for artists to make a living from their work. As reported by the U.S. Bureau of Labor Statistics, artists make up 1.6% of all U.S. workers. Now that machines will be able to produce art faster than humans, artists lose their job security.
One person who has publicly used AI over a human artist is Collin Waldoch, creator of the online game, "Twofer Goofer." He said in  "The New York Times" that "he didn't feel guilty about hiring human artists because human artists were too expensive to make the game worthwhile."
Luckily for me, I go to Wilde Lake– a school that gives artists such as myself opportunities left and right to pursue their passion. During high school, I have been taught to value the arts. 
I have been drawing all my life, and through Wilde Lake, I have been able to grow and establish myself in my art. This school not only deepened my love for drawing but introduced practical outlets for my talents that could get me somewhere in life. 
Graphic design has become my career path, and I would never have gotten there without Wilde Lake's resources pointing me in that direction.
Going to a school like Wilde Lake that encourages originality and community has taught me that all things filled with love come from love. AI is not filled with love, and it most certainly did not spawn from love. AI is, simply put, another way for businesses to squeeze more money out of consumers.
Artists like me spend hours brainstorming, planning, and producing art. I take time to experiment with ideas and concepts, doing everything by hand. The most that these self proclaimed "artists" have done is type in a text prompt and wait about three minutes for the "art" to be finished for them. 
I know that we will never be able to get rid of AI. Unfortunately for artists, artificial intelligence will only grow from here. Technology is advancing in a way that predicts that AI will become a household tool. 
As the next generation, I say that we learn to be mindful. When we ask for art pieces, we need to clarify where it is coming from. If you insist upon an AI-created piece, fine. You know what you asked for, and you will get what you want. 
To all the AI "artists," be fully transparent with what you're doing. Do not create or sell the AI art claiming that you made the piece. You must explain to your customers that the art was generated by artificial intelligence and sell it under those terms. 
When you claim that your art is original when it is not, you are misrepresenting the product and giving yourself false credit. In the real world, this is called fraud. 
I ask not just artists but art lovers everywhere to support the living people who make art from the heart. AI has not earned its place in the art world, and it should never be accepted into it. 
Leave a Comment