Staff and Students Compromise on Decision for 3-Day Advisory
Three weeks into the school year, Ms. Leonard announced at the September General Assembly that Advisory — a 20 minute non-academic period — would no longer run on Mondays and Fridays. 
"You guys heard me talk in the first week [of school] about the pressure I was getting to not have Advisory for more than one day a week," Ms. Leonard told student representatives on September 21. "Unfortunately, there are still students that are not attending Advisory and taking advantage of that time. I have been able to push back on going down to one day, but we are going to look at running it for less than five days a week, so that we can make sure that every time we meet that it is meaningful and we are taking advantage of that time." 
In May 2022, students filled out a survey on how many days a week they wanted Advisory for the following school year. According to Ms. Pennington, a member of the Advisory committee, the "overwhelming choice" from that survey was to run Advisory five days a week.
At the September 19 staff meeting, the staff voted to cut days from the Advisory schedule. Social Studies teacher Ms. White says staff divided into departments to talk about "the vision of Advisory" and whether the school was "meeting that vision." 
Advisory representatives were then given a form to survey their Advisory on whether they wanted Advisory to run two or three days a week. Students decided on three days a week. However, some teachers believed that staff was responding to students who spend Advisory in the hallways, according to Ms. White. 
But since the cut back, many students say they felt like they were losing valuable time.
Andrew Heffner saw Wilde Cat Time as a freshman. Now, as a senior, he said that the break Advisory provides improves the quality of students' work. "If your brain is working nonstop all day, it's just not good," he said. "The work you're going to produce is not going to be quality or as high as it could be."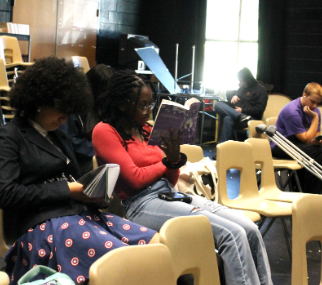 Ashleigh Thur, whose Advisor is Ms. Padgett, says that the school days with classes back to back are long, and tiring, but Advisory makes the hours spent in class easier.
"Advisory gives me the chance for my brain to reset and for me to destress some and feel more present and engaged before my next classes," said Ashleigh. "I feel like Advisory helps me perform better later in the day because of that."
Over the past two years in Advisory, Kayshon Loman, a junior, has used his Advisory time for math help with his Advisors, Ms. Hill and Ms. Adams. He says that his math class last year was a challenge for him. "Now, this year, going to those advisories and getting help with math, I have a B," he said. 
Advisory provides the chance to spend time with a staff member. For some students like SGA Treasurer Logan Peyton, the time is used to meet with teachers. "The teacher may have something they do not want to say in front of the whole class, but it's just between us," said Logan. "Advisory is a chance for us to connect a little bit better than in front of the entire class."
But students are not the only ones who value Advisory, according to Media Coordinator, Ms. Palmateer. She says the time is useful for teachers, too. "It's just 20 minutes of relaxation that everybody needs," she said. "Even we as teachers need it." 
"It's a unique space to be with an adult that isn't giving you a grade or that you're not earning a grade from," says Ms. Leonard.
Ms. Midgley, a Wilde Lake staff member since 1996, has seen Advisory in many of its forms. She uses her Advisory time to check in on her advisees, emotionally and academically. She says that Mondays and Fridays will be hard for her and students without Advisory because they will go all weekend without seeing each other and without a check in. 
"I don't know what happened to them over the weekend. That's when a lot of stuff goes down," said Ms. Midgely. "A kid comes in with all kinds of family drama and friend drama that you need to process." 
Moving forward, Ms. Leonard says that the school will continually address the needs of the community. "If we need to make changes, we can do that," she said.
Leave a Comment