General Assemblies Introduced to Uplift Student Voices, says SGA
One Wednesday every month, the cafeteria fills with about 138 students to broadcast student voices of Wilde Lake through a General Assembly run by the SGA.
When student government association sponsor Mr. Wallace began teaching at Wilde Lake four years ago, he had the idea of introducing General Assemblies — a governing body — to the school, led by the SGA. Now, with the return of Advisory, his vision came to life.
According to Mr. Wallace, the goal of the Assembly meetings is for all students' voices to be heard and represented. "We want our student representatives to represent all of, and not just some of, Wilde Lake," he said.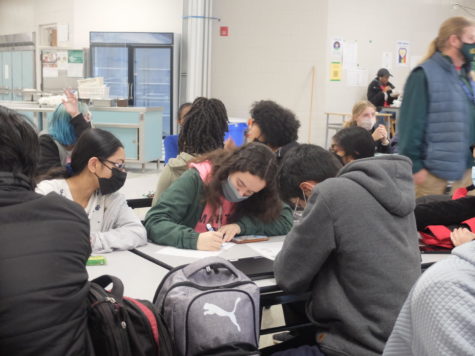 At the beginning of the school year, each Advisory elected two students to attend monthly assembly meetings in the cafeteria. According to the SGA, the student representatives' job is to gather information and opinions from their Advisory on issues relevant to the school and county and report them to the General Assembly. The representatives then relay information discussed in the General Assembly to their Advisory. 
The Assembly meetings cover a wide range of topics, Mr. Wallace says. "Sometimes democracy in our school includes things like spirit weeks, and sometimes it includes things like midterms," he said. "We try to address both at the assemblies."
Allowing students to voice their opinions on a wide range of topics "empowers [them]," according to SGA secretary Sajana Vigna-Mclaughlin.
"We have to balance the importance of making high school fun for the students but also addressing the important issues that really impact them," Vigna-Mclaughlin said.
The Assembly meetings give students who wouldn't typically hold leadership positions an opportunity to share their opinions, says SGA treasurer Abisola Ayoola. 
"We get to assemble with these students and hear their input on issues, and from there, we gain perspectives that we would not hear otherwise if we did not have these assemblies," Ayoola said. "We are able to ensure that the decisions we are making as an SGA are fair to everyone and representative of everyone."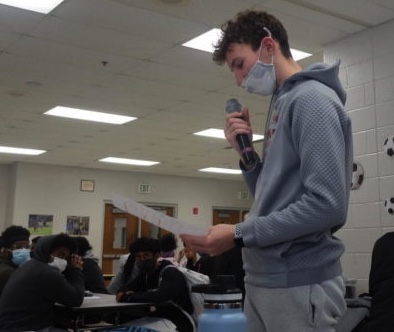 Once students provide their input, discuss, and vote, Mr. Wallace says that the SGA must take action. "The student voice needs to be acted upon," he said.
Mr. Wallace says he hopes to see the Assembly meetings stay in future school years and continue to improve and strengthen.
"We want [assemblies] to be effective, and continue to be effective so that students can voice their opinions, impact issues that they want to see acted upon, and create change in our school and county-wide," said Mr. Wallace. "My hope is that [students] will develop the skills to be the next generation of leaders out of Wilde Lake."
Leave a Comment