'Showcase of Bands' Brings Together Marching Bands County-wide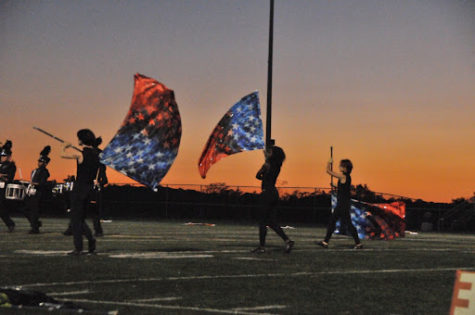 The stands were silent and the lights were glaring after the first marching band to perform marched onto Centennial's football field on the evening of October 20. The drum major stands on a ladder, raises their hands, and shouts, "Five! Six! Five, six, seven, eight!" And the music slowly fades in.
Marching bands from six Howard County high schools gathered on October 20 for the fourth-ever Showcase of Bands, an annual event to highlight the performance aspect of music, according to Hammond band director Steven Dunlap. 
Marching bands typically perform at their school's football games. However, Wilde Lake mellophone and french horn player Hannah Soo-Tho says performing at the Showcase was more nerve-racking than at games.
"People who haven't participated in marching band probably wouldn't notice the little mistakes we make like moving when we're supposed to be stopped or starting with the wrong foot, but marchers from other high schools definitely would," says Hannah. 
Keeping up with the choreography is challenging, says Long Reach color guard Jackson Kim. "We have to memorize, like, three things and have to do it all at once," says Jackson. "It's really difficult to go all at once, so we mess up a lot."
Alto saxophone player Zack Roschli from Long Reach says performances aren't perfected overnight. "It takes a lot of time," he says. "You have to go to a bunch of practices." 
However, being able to perform was rewarding for Long Reach color guard Bunny Tarro. "I love performing more than anything honestly," says Bunny, "like I haven't shut up [about it] since the entire time that I've been here."
Hannah says that being among the "band family," as Wilde Lake band director Mr. Saul Green puts it, is one of the best parts of the band. 
Bunny says, "I love celebrating music so much because music means, genuinely, the world to me."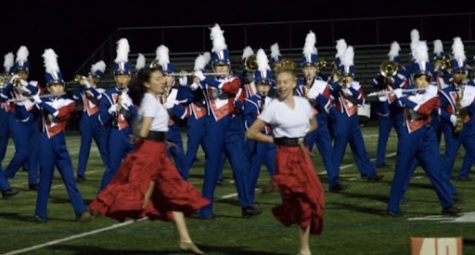 Wilde Lake drum major Alex Ringerud says that a band's sense of community extends to the interactions between bands around the county. 
"Band is a family," says Hannah. "The people who are in the marching band with you, more often than not, will be your best friends."
"At every marching band performance I've been to, all of the band members always cheer each other on, shout out to their sections, and generally just have a lot of fun," says Alex. "The band community in Howard County is just such an amazing community."
Mr. Dunlap says that celebrating all of the marching bands' hard work was exactly what the event was designed to be. "This was a chance to celebrate marching band with other people who know and appreciate what goes into marching band," he says. "We all know what it takes to make and how much work it is so it's nice to be appreciated for that work. It's really nice to appreciate other people who also put in that work."
Leave a Comment