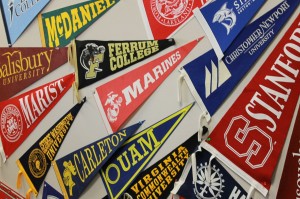 After weeks of laboring over writing supplements, filling out personal information, and following up on teacher recommendation letters, senior Evan Bell sat down on October 15 to send an online college application to one of her top choices, the University of North Carolina at Chapel Hill. Filling out that online application on Common App was no small feat, but it was a labor of love.
After checking her application one last time, Evan typed in her mother's credit card information and hit "submit." A wave of relief washed over her as she sat back in her seat. It was finally over! Evan went to the kitchen to celebrate with something chocolatey while the application loaded.
Evan sat back down at the computer with a Hershey bar at hand and a puzzled look on her face. To her surprise, the application was still loading. Evan tried not to worry and let the website run its course, but ten minutes turned into fifteen minutes and then into twenty. This was the last day that she could submit! Panic started to creep up her spine and into the back of her throat.
"The cursor just kept turning and turning," said Bell. "I waited for almost an hour for Common App to finish loading. It eventually just logged me out. I was nervous because it was the last day for early action and I wouldn't be eligible for certain scholarships if I applied regular decision."
Evan remembers what it was like to sit at her computer while Common Application stalled.
"I was scared," said Bell. "I just sat there, sweating it out. I was so frustrated and I kind of wanted to cry. After going through all the hurdles of recommendation letters, SATs, subject tests, and counselor meetings, I just wanted it to be done."
Evan is one of many college-bound seniors who have struggled with a glitch-ridden Common Application website this year during the college application process.
The Common Application, an online college admission application used by 517 member colleges and universities, encountered technical difficulties after releasing its fourth software update, CA4, on August 1, 2013. According to the Common App website, applicants have reported glitches that range from being charged multiple times for a single application to not even being able to log in to their accounts.
Common App reports that the most widespread glitches involved teacher recommenders.
Senior Zain Ul Abidin is one applicant who struggled with a buggy recommender system.
"I assigned the recommender and the recommender received an email from Common App," said Abidin. "When he pulled up his Common App, he couldn't see my name. The counselor couldn't resolve the issue, so she emailed Common App. The problem was that Common App updated the form after I had filled out all of my information, so I had to fill everything out again before I could assign any recommenders."
Abidin remembers what it was like dealing with the recommendation system glitch.
"I was very upset and scared," said Abidin. "I was only applying to one college, so I wanted to be prepared. I filled out everything two weeks early. That was the first time in my life I had ever been fully prepared for something school related. The glitch happened right before my application was due. That freaked me out. I really had no contingency plan because I only applied to one college, UMBC [University of Maryland Baltimore County]."
Abidin wonders what the glitches mean for students across the country.
"Common App is widely used, yet it had the potential to affect me and many other people in a negative way," said Abidin. "I resolved my issue, but I worry that maybe everyone else did not."
English teacher and recommender Ms. Curtis had trouble with Common App this year.
"I had a problem when the students tried to add me as a recommender," said Ms. Curtis. "For two of my students, I didn't receive anything. The students had to contact Common App and get them to resend everything to me."
Ms. Curtis thinks that the buggy website is frustrating for students.
"What was concerning to me was how many glitches there were," said Ms. Curtis. "I think it created even more stress in what was already a stressful situation for students. It took what was supposed to be an easier process and made it more difficult."
Ms. Curtis is particularly worried about the merits of using a Common Application that is fraught with bugs.
"I think that if it takes stress off students, Common App is worth using," said Ms. Curtis. "But if it's still glitchy, then it's going to be stressful."
The way Social Studies teacher Mrs. Platou sees it, that stress defeats the purpose of using a one-size-fits-all application like the Common Application.
"It's frustrating because Common App is such a great idea," said Mrs. Platou. "I think there's already a lot of pressure on students during the whole college application process. There's so much to do and you want to be able to check it off and get it done. In theory Common App should simplify things, but this just complicates everything."
Students and teachers were not the only ones frustrated with Common App. Guidance counselors also struggled with the buggy website.
"At first I was quite concerned," said Wilde Lake guidance counselor Mrs. Pashigian. "All of the sudden we were having all of these negative experiences. We couldn't do our part, students couldn't do their part, and there wasn't really anybody to call."
While Mrs. Pashigian was upset with the glitches on the website, she understands that Common App Inc. has been working hard to resolve known issues and appreciates their efforts.
"They didn't anticipate this kind of a problem, but they installed a lot of tech support. They also send us daily progress updates," said Mrs. Pashigian. "I like that they put in a system that helps."
Wilde Lake guidance counselor Mrs. Malloy is optimistic about the future for Common App.
"I like the idea of Common App as a concept," said Mrs. Malloy. "I had to handwrite all of my apps, so I think Common App is great. Common App will also iron out the wrinkles, so hopefully we won't experience the same problems next year."
While the college application process has been stressful for students like Evan Bell who have had trouble applying through Common App, colleges have helped alleviate some of that stress by extending their application deadlines.
"University of North Carolina sent out an email extending the application deadline by a week or so," said Bell. "By that time Common App fixed the issue and I sent in my application. I was very relieved. I was thankful that UNC took into account Common Apps' glitches."
Evan Bell still believes in the merits of Common App.
"I think it's great that we are starting to integrate technology into our everyday lives and tasks, but we get the negatives with the positives and we need to be aware of that," said Bell. "I think Common App is a very helpful tool because the majority of applications are in one place. Even though I did have problems, I would rather use Common App than another service."