Wilde Lake Reports Four Cases of Covid-19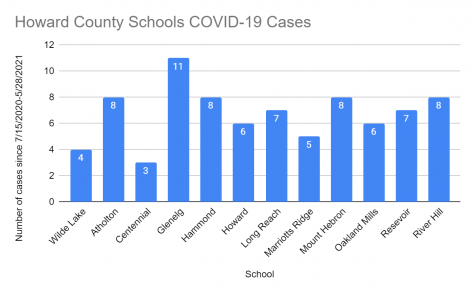 In November, Wilde Lake reported its first cases of Covid-19, two staff members. The first student case was reported in April, and another staff member reported positive in May. 
According to principal Ms. Leonard, the county requires contact tracing and quarantining at home with positive cases. Still, schools have no way of knowing how many cases have gone unreported as it is impossible to trace positive asymptomatic cases. Although Howard County has one of the highest vaccination rates in the state, it is unknown how many students are vaccinated. For that reason, there is still some risk involved in coming to school. 
Compared to other high schools in Howard County, Wilde Lake, and Centennial High School have had the lowest number of cases since July 15, 2020, according to the HCPSS. The average number of cases reported in Howard County high schools was 6.5 cases per school as of mid-May.
Ms. Leonard attributes Wilde Lake's low number of cases to its students and staff. "For the protocols with mask-wearing and social distancing to work, the students have to buy into the fact that they are doing it to keep those around them safe," she says.  
According to Ms. Leonard, when students returned, they were instructed on the county-mandated protocols. "We want all of our students to go home to their families safe and healthy every day," she says.
When Wilde Lake had its first reported student Covid case, the school's number-one priority was making sure that the student was well, said Ms. Leonard. "My first reaction was, is the student okay? It's all about how they are feeling and if they are getting the medical help that they need," she said.
Alex Poirot, a sophomore, went back to the school for hybrid learning. "Generally, I think everyone is respectful of people's space," he says. "At lunch, people sometimes come up without a mask, but aside from that, I feel good about the situation."
Sophomore Lindsey Sands returned to hybrid school this year as well. Sands feels that the county and school have had a "great response" but is unimpressed with some of her peers' willingness to follow the protocols. "Most students have ignored social distancing from the start," she says. 
As the school year comes to a close, the surest way to prevent the spread of Covid is to follow the advice of health officials. According to Ms. Leonard, "The best way for things to go back to normal starts with people getting vaccinated."
Leave a Comment