Virtual Learning Takes Its Toll on Music Education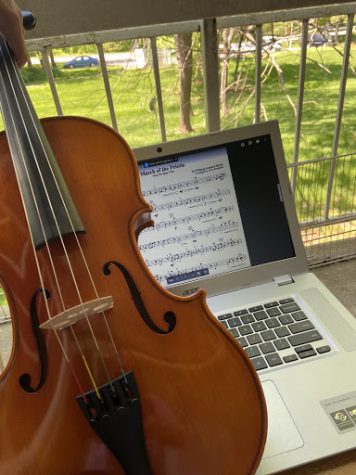 Virtual learning is hard. Learning music virtually is even harder, and students and teachers alike are feeling the effects of trying to carry on as a separated ensemble. 
Anywhere where art relied on an audience, quiet has stood in excitement's place for over a year. Due to the pandemic, all learning and performances were made virtual. Virtual learning has made learning music difficult in every aspect. 
One aspect of virtual learning that has proved especially challenging according to Ashauna Hines has been playing without a group. Having played viola since the third grade, she says that the feeling of playing as an ensemble is irreplaceable. 
"As a group, we sounded better, which inspired me to do better, have a better playing position, and have more confidence in playing. Now, I lack the confidence to play and often shy away from it," says Ashauna.
Violin player of seven years Jennifer Loza-Torres believes that the most important aspect of performing arts is the atmosphere of the orchestra as a whole. "In-person is 100% better. I was more focused and having lots of fun playing together," she says. 
Comprehension of the music has also been an obstacle according to Jayvyn Cabbassa. He says being in-person among his fellow musicians gave him a better understanding of the pieces he played. "I was able to hear the other section play, which truly made me understand how my part of the music contributes to the overall piece." 
Without the motivation of his peers, Jayvyn found it difficult to maintain a rigorous practice schedule. "Online school has given me lots of homework to do," he says. "But I also have to go to football practice, making me come home tired, leaving me no time to play." 
Ashauna misses the sound of everyone altogether more than anything else. "Virtual learning is a big difference compared to in-person learning. I miss the old natural sound of us playing in a group." 
"Music is a performing art, and interaction is key," says Wilde Lake orchestra teacher Ms. Spiro. "Virtual learning interferes with hands-on music education." 
To make learning music easier for her students, Ms. Spiro has been using many online resources like Noteflight, an online application for making music. "Software has improved including auto-grading recordings showing students their mistakes in playing, but it can never replace the human touch," she says.
Jennifer acknowledges that the switch to virtual was a learning curve. "No one was ready for this experience. Ms. Spiro has tried her best to keep the class running smoothly the best she can. She has become even more patient knowing technology isn't always on our side," says Jennifer.
Ms. Spiro did a virtual winter concert with her last semester students by having each of them record their parts individually, and has hopes to do a virtual spring concert as well. 
Though this year has posed unique challenges to Ms. Spiro's orchestra, Jayvyn has kept his love for music. As Jayvyn says, "Music is my favorite way to express myself."
Leave a Comment