Students Return to School with Mixed Feelings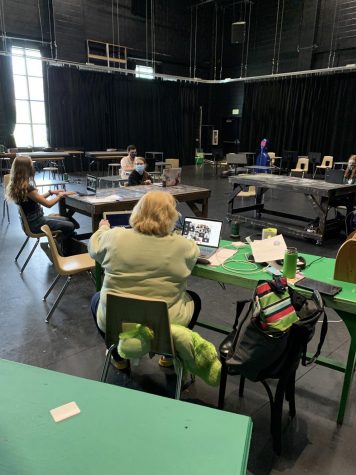 Weirded out, happy, reluctant.
These were some of the feelings felt by many Howard County students as they returned to the school building in April after having been out of school for over a year. 
As the pandemic took its toll on America, students couldn't live their normal lives. They couldn't meet up with people as social interactions were limited to being online. They couldn't go to school in person. Upon returning to the building, students didn't know if they would be safe. But, as students got to see their friends and teachers again they had mixed feelings.
Freshman Tyler Mooneyahn's said his first day was filled with nerves. "I felt like I was gonna get lost and the building was big. I didn't know what to do," says Tyler. "Without a building full of students, there was a lot of room. It was empty. " 
Tariq Mcrae said he also felt odd as there were many changes.  "It felt weird because we are wearing masks and social distancing," says Tariq. 
Students who came into the building in April were met with safety measures such as vaccinated staff members, sanitizer and wipes in all classrooms, and the building being disinfected by the cleaning staff each weekend. 
Malcolm Hendricks, a freshman at Centennial High School, says,"The main reason I felt safe returning was teachers being vaccinated." 
 However, Derek Fermaint, a freshman at Wilde Lake, feels good about coming back to the building.  "I actually pay attention. I had a lot of distractions at home." Derek also adds that "wearing a mask and teachers having the vaccine made [him] feel a lot better about returning in person."
Tariq is aware of the risks that come with returning to the building. "I do feel safe being here but you can't be so carefree. I just have to wear my mask and wait until I'm able to get my vaccine," he says.
According to Malcolm, teachers try to make class feel normal."They're trying to keep the same energy as if we were in a normal school environment."
Tyler thinks some of the classes are just like online " Some of my teachers don't do anything fun and just have us sit there but there are some who keep us engaged," said Tyler. 
Tariq likes how his teachers try and keep him engaged in his work and answer the questions he has" My teachers try and keep it like normal school and try to keep me engaged and answer the questions I have about my work."
As students adjust to the hybrid learning environment, there are still many uncertainties about returning in person. With the virus ever-changing, the school system has to change the way they keep students and staff safe. 
View Comments(1)