Through our Advice: "Find Your Purpose"
The Beginning for Three Black Female Entrepreneurs
Life is just beginning in the mind of an 18 year old. Whether you take the college path or not, you now have one of the biggest responsibilities this world could ask of you, to find your purpose. And for these three young African American females, they're doing just that. 
What does a dancer, nail technician, and hair stylist all have in common? Passion. That drive to find their purpose and share it with the world is what 18 year olds Genevieve Mensah, Zuri Hargrove, and Emoni Hill, all share. A passion that gives them purpose. 
Genevieve Mensah, who is a hair stylist and the CEO of Glamor girl, has recently started her own business. "I started doing hair for profit in November 2019, but I had been doing hair on my closest friends since my freshman year of high school," she says. " I wanted to do something different to my hair each week but nobody in my area was really doing frontals (a half wig which goes from ear to ear and is sewn with approximately 3-4 bundles of hair). This pushed me to try it on myself and when I liked the outcome, I became very intrigued with it." 
Before Mensah started working with hair, she often found herself distant and shy. However, she later discovered that the key to a successful business is not just about the service you offer, but the experience as well. Now, as a two-year business owner Mensah has learned some of the basics. "As a business owner, you really have to conduct yourself in the right way to be able to give a sense of professionalism and an all-around good experience. I've found that over time, I've become more mature & grounded," she says. "It's also essential to love your business and invest in it for the right reasons, don't do it because it's a trend and you're trying to one-up someone. If you love what you're doing it'll show to your clients and if you don't, that'll show as well," she concludes.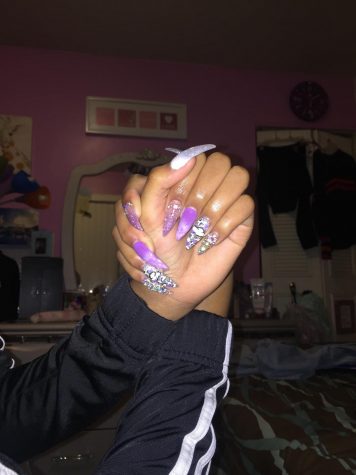 Nail technician Zuri Hargrove has also invested in a business of her own after initially having an interest in nails back in 7th grade. "The one thing I always remember feeling when I was doing my own nails was peace. I felt at peace when I was doing my nails because I was moving at my own pace and I was able to see how creative I truly was," she says. For Hargrove, her art sparks from truth. Her truth comes in embracing the difficulties, this, she says, is how you discover how unique you are. "Learn from yourself first, take that deep dive and try the things you thought you'd never be able to do. It'll amaze you how you'd be able to do things you never thought you would. It also shows how motivated, observant, and confident you are. Three things you need when you have a business.
For Emoni Hill, dance is more than a freelance activity, it's a main part of her life. "I want to always be able to dance. When I dance I feel free. That's it, there's nothing there but me and the music. To have that kind of intimacy and peaceful mindset is unmatched. It definitely contributes to my dedication and confidence," she says. Her piece of advice to those that are pursuing their dreams: is to find their foundation. "The way I look at it, anyone can move, but when you know the meaning behind every movement you make, that true dancer within you comes out. It's very similar to life, in order to be successful at what you do you must find what makes you, You. You must find what makes you move."
Combined, the girls are using their platforms to promote self-confidence, creativity, and motivation. Mensah credits these traits to her personal goals, "I would hope I'm influential to others, that is really my goal to show young women that you can do anything you want. My favorite part about all of this is the confidence I get to see on my clients face after their hair transition, it makes me so happy. Hair is my passion and I hope to make this into a career." Fortunately, Hargrove shares the same mindset as she says, "I want my art to serve as an influence on those that are open minded and love art as much as I do, even the business portion, itself is intriguing. Seeing a young African American female artist doing what she loves, branding her work, and holding her own, is one of the most inspirational things to me. I want people of color to know this and use it to mold their own hopes and dreams."
As for their foreseeable futures, Mensah plans on expanding her empire with an eventual move to Atlanta, while Hill and Hargrove will attend Howard Community College. Hill with a major in business and fine arts as she plans to start her own dance company in Florida, and Hargrove in business and entrepreneurship as she hopes to expand her craft and eventually have her own nail products, merch, and salons.  
View Comments (1)