StarTalk programs gives motivated students free language learning opportunity
As the world continues to globalize, language skills are becoming increasingly necessary for both business and national security. According to the BBC, around the world, sixty to seventy percent of people speak two or more languages. The National Security Agency is attempting to increase the number of bilingual or multilingual people in the United States, specifically focusing on languages deemed critical to national security.
StarTalk is an NSA funded language learning program designed to teach languages that are typically not offered in the US school system. The Howard Community College program focuses on Mandarin Chinese and Modern Standard Arabic. For five weeks, students from grades 9-12 participate in 95 hours of language classes, which earns them four college credits, a year's worth of high school language credit, and basic language proficiency – all for free.
Abi Ruby initially heard about the StarTalk program while her family was living in Turkey, and thought it would be a great opportunity for her to continue her language learning in the US. Now a 17-year-old graduating senior at Mount Hebron High School, Ruby says, "I gained a lot of friends and conversational skills in Arabic through the immersive aspect of the program." StarTalk also fulfilled her foreign language requirement, and without the program, she wouldn't have been able to graduate early.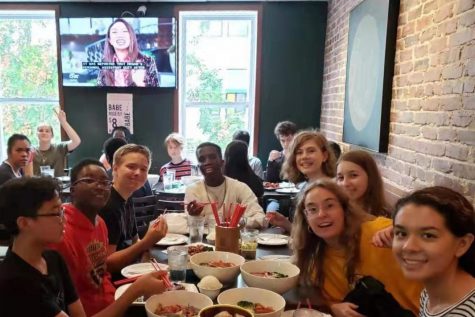 Meilin Mair was a student in StarTalk for two summers, and became a volunteer classroom assistant after completing the StarTalk program, as well as other Chinese courses offered at HCC. Having been drawn to study language in part because of her Chinese roots, Mair appreciates the program for its dual focus, saying, "Students not only learn a new language, but also the culture. They learn through things like food day, where they get to cook traditional Chinese dishes."
Hammond High School senior Juanita Mackey heard about the StarTalk program during her sophomore year. She had been looking for alternatives to high school language classes, because she wanted to take more difficult courses and really get serious about learning a language. "I plan on using my language skills long term," Mackey says. "I want to use it in my future career because I'll be accessible to more people if I speak Chinese, especially since I hope to become an immigration lawyer."
Despite the challenges of completing what would usually be a semester-long college course in five weeks as a high school student, StarTalk participants are quick to point out the many benefits that the course has to offer. Mackey, who has now spent the last two summers as a StarTalk Mandarin student, couldn't speak higher of the program."It [StarTalk] is such a fantastic experience that cannot be gotten elsewhere," she says, "You're guaranteed to get a great amount of knowledge of the language and the teachers are great."
Leave a Comment